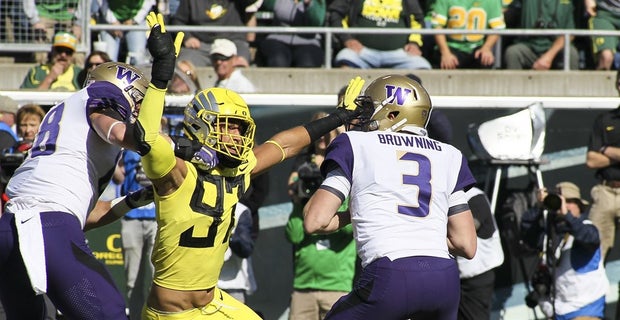 Before every Oregon football game, we will be posting the biggest questions surrounding Oregon football's match-up of that week. These questions will revolve around position battles, scheme, match-ups and more. Following the game, we will follow up and answer those questions. Here are the answers based off of what we saw in Oregon's 30-27 win over the Washington Huskies.
Can Justin Herbert deliver versus an elite Husky secondary?
The best thing Herbert did against this Husky secondary was not turning the ball over. Not that UW's secondary has forced all that many turnovers on the year, but they certainly have the capability of doing so. Glancing at the stat sheet, Herbert had a decent performance — 18 of 32 for 202 yards and two touchdowns. Remarkably, the longest pass of the day went for only 23 yards. Washington came into this game having only allowed three passing touchdowns on the year, and Herbert almost doubled that total in this game alone. There's not much to complain about in a win. Herbert has now checked off his most notable resume omission — a big game win.
Will Oregon's defense take away Washington's offensive identity?
I mentioned last week that Washington prefers to have a balanced approach on offense. Oregon's defense allowed for the Huskies to find success on the ground, but really confused quarterback Jake Browning due to their secondary coverage. The team statistics show a balanced UW offense — 243 passing yards and 207 rushing yards — but where the defense succeeded was limiting the play action deep passing plays. The longest completion of the day came on a 43 yard pass from Browning to receiver Ty Jones resulting in a touchdown.
Can the Ducks make Browning uncomfortable?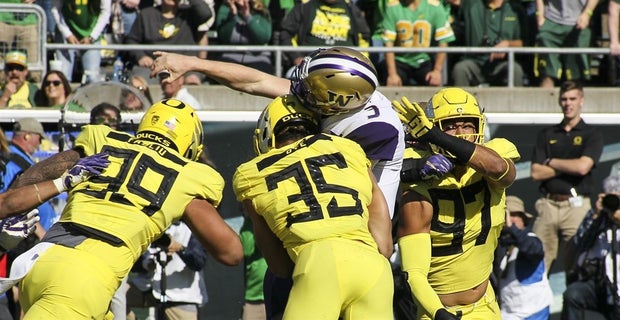 The Ducks only sacked Browning once on the day, but Oregon's defensive line did a great job at getting pressure. The secondary coverage was fantastic. Browning himself even noted how Oregon's defensive scheme wasn't what he was expecting.
"They basically played the pass the whole time," Browning said. "They clouded a bunch of our receivers. You could tell they didn't want to go one-on-one with any of our receivers so I think that's why we were able to run the ball so well."
Browning continued on talking about if that was what he expected from the Ducks' defense.
"It's in their package, probably didn't expect as much cloud coverage as we got but adjusted and thought we played well. Just got to come through at the end."
For those who are unaware, a cloud coverage typically refers to when two safeties and one cornerback are each assigned a deep part of the field. There are certain variations to the scheme, but it's focused on taking away any deep passing plays. This scheme is why Oregon only rushed three on a large percentage of defensive plays — allowing eight players to be in coverage.
Will Oregon play a disciplined game?
Oregon was penalized seven times for 70 yards. You'd like to see less penalties, but for the most part, the Ducks played with composure which is exactly what you need in a rivalry game. Defensive end Drayton Carlberg got charged with a targeting penalty which led to his ejection. Dillon Mitchell was penalized with an offensive facemask penalty as he was attempting a stiff arm.
Can Oregon's offense continue their explosive play?
The Ducks were reliant on chipping away at the Husky defense with long, methodical drives. The longest play of the day came on a 56 yard kickoff return from Tony Brooks-James. The longest rush of the day was 14 yards from Travis Dye. As previously stated, the longest passing play was 23 yards. The Ducks didn't beat the Huskies with explosion plays — they beat them by pounding the rock and letting Herbert pick apart the UW secondary. There was nothing flashy. There were no trick plays. The Ducks played conservatively on offense and it paid off.