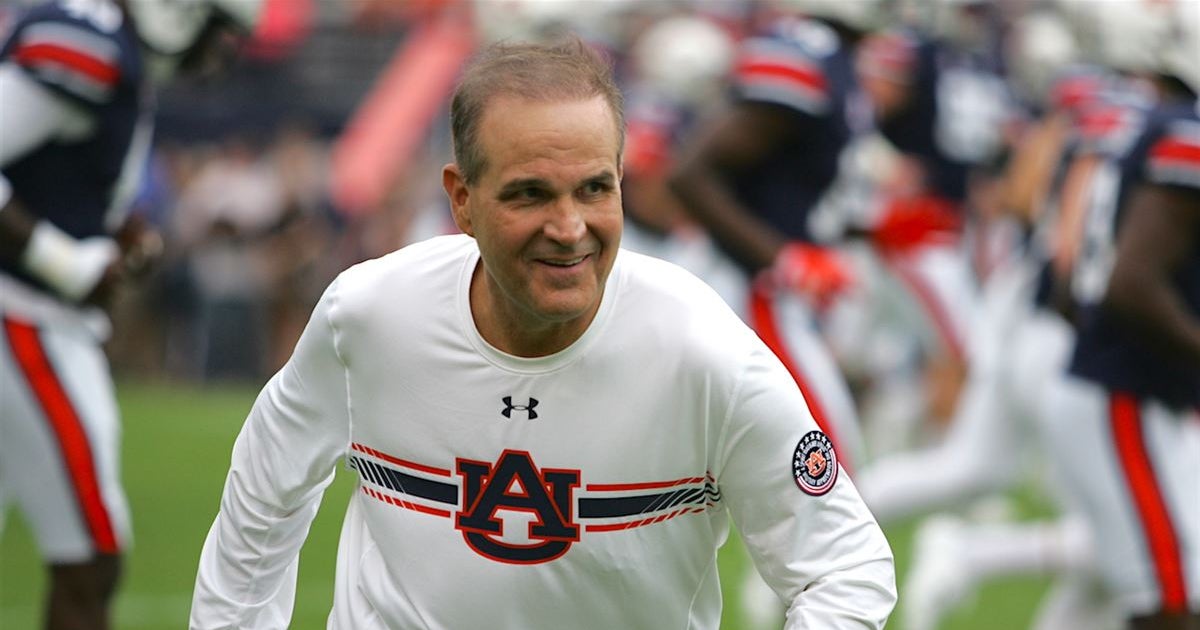 AUBURN, Alabama — Talking season is almost over.
No. 9 Auburn entered preparation mode for its season opener against No. 6 Washington on Tuesday, 11 days before kicking off Sept. 1 against the Huskies at the Chick-fil-A Kickoff Classic.
"It's here," Auburn safety Jeremiah Dinson said Wednesday, the second day of preparations for the Huskies. "It's no more talking about what you're going to do or things like that. It's time. I think there are about 10 days left. You just get the feeling the season is here. That's the feeling I get."
The task is certainly difficult for Auburn in the season opener. The Huskies return their quarterback in Jake Browning and their running back and special-teams connosieur in Myles Gaskin. Oh, and don't forget about the Huskies' defense, which allowed only 10 passing touchdowns in 2017, the second-best mark in the country.
"Washington is a very, very good football team," Auburn defensive coordinator Kevin Steele said. "Mammoth offensive line, big tight ends that can block, multiple tight ends, and they play with two and three tight ends on the field with those big offensive linemen. So they can give you the locomotive offense, if you will. It's coming downhill and it's coming downhill fast. The quarterback is very accurate. He's been a starter for three years. He's a very good player. The tailback is really, really quick and he can make people miss in a short area. He's got a really fast jump-skip. He can plant and skip and take off, makes a lot of people miss tackles."
Gaskin is only the third player in Washington history to rush for 1,000 yards or more in three straight seasons. Browning finished sixth in the Heisman Trophy race in 2016, the second-highest finish by a Huskies player in school history.
Simply put, this Washington team is legit. The Huskies were picked to win the Pac-12 by the media and are a popular pick to reach the College Football Playoff for the second time in three seasons under coach Chris Petersen, who placed the Boise State football program on the map during his previous coaching stop.
*** Try us FOR FREE for 7 days and get the latest Auburn recruiting and team scoops ***
*** Get FREE Auburn breaking news in your inbox ***
"Obviously, we don't have any new film on them, so the film we've watched all winter, all spring, all summer, is still the same film," Steele said. "It hasn't changed. The one thing that is a little different about it is trying to predict what the change in the offensive coordinator/play caller will be. That's hard to do. But the head coach has been pretty traditional with what he does. But it's still hard."
Meanwhile, Auburn does have one connection to the Pac-12 program, even if Auburn and Washington have never met on the football field. Tigers offensive coordinator Chip Lindsey coached against Washington as Arizona State's play caller in 2016.
Arizona State managed to only 245 yards and didn't score a touchdown until the fourth quarter in a 44-18 loss at then-No. 6 Washington. Quarterback Manny Wilkins threw for 227 yards and was sacked six times. The Huskies went on to lose to Alabama in a College Football Playoff semifinal game in Atlanta.
"It's the same type of defense," Lindsey said. "My experience in the Pac-12, Washington was obviously one of the top teams in that conference and was very impressed with them. We played at Washington, which is a tough place to play, they're very well coached. I see the same things on film. They were one of the best teams in the country that year – I believe that was the year they played in the Playoff, I think. Really impressive and I think we're going to see the same kind of team next week."
Auburn coaches have long said preseason camp was shorter than usual, and much more compact, because of the late start to preseason camp Aug. 3 and the season opener set for Sept. 1.
"We're definitely in game-plan mode in a certain degree, but obviously, we're nowhere ready yet to say that we're game ready," Steele said. "You say, 'Well, good gracious, you only have a week-and-a-half to go.' Well, we've only been practicing basically three weeks. So we've still got time."