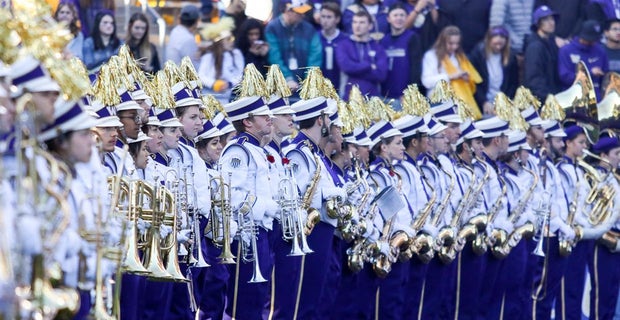 It was the news you hope you never see: a bus carrying members of Washington's marching band rolled over in eastern Washington on Thanksgiving night. Eventually, 47 members were taken to four various hospitals in and around Grant County, just east of the Columbia River. They would never make it to Spokane, their destination.
It was Brad McDavid's worst nightmare. In the minutes and hours after the crash, so much had to be done. The injured members had to be taken care of. The rest of the band had to be taken care of. The staff had to mobilize, and with the help of local folks close to the accident, as well as those in Moses Lake – they were able to stabilize the situation.
Dawgman.com spoke with the UW Director of Athletic Bands about his immediate reaction to the crash, how they dealt with it, their reaction to the outpouring of support from other college bands near and wide, the reaction from the UW Athletics community when they got home, and how all of this affected decisions that had to be made about traveling this Friday to the Pac-12 Championship game in Santa Clara, Calif.
"Diving into the game has kind of been therapeutic for all of us. So I guess it's kind of a good thing that we had to get right back into preparations for this game."
Were you on the bus when it happened?
"No. I'm always on the lead bus. We had six busses caravanning over and I was on the lead bus and the bus that was in the accident was the third bus."
Crazy that it didn't create a domino effect…
"Yeah. It was also made even harder for those of us that were ahead of the caravan and had to double-back because we didn't see it, we were getting spotty information and so it was really difficult. We had to offload several of the kids off of one bus onto another so we could get back an empty bus to be the biggest amount of help that we could be for the state highway patrol and the first responders. But it was all hands on deck and I could not be more proud of the kids because they were so focused and so mature and even those that got to the scene first were – from what we've been told by the state highway patrol and the fire and folks that got there – how incredibly helpful and how incredibly the students were that were there just to help out their peers."
How difficult was the decision not to go to Pullman?
"Not real difficult. When it was clear that we were going to have kids still in the four regional hospitals, it was the decision that needed to be made. We needed to be all there and especially my staff needed to be all hands on deck to help as soon as the kids were getting discharged back to where we were all ended up staying the night in Moses Lake.
"Again, it wasn't difficult, it was the decision that had to be made and us all being there together helped the healing process as well. If we had been splintered and I would have taken a portion of the group to the Apple Cup, I still think that was needed at that particular time."
You were supposed to stay in Spokane the night before the Apple Cup?
"Yeah, we were scheduled to stay that night, Thanksgiving night, in Spokane. We always stay in a hotel by the airport. Given that the kids with the injuries were taken to hospitals in and around Grant County, the nearest place that could house all of us was Moses Lake.
"Within minutes I had gotten a call from the Moses Lake High School Band Director asking what he could do and I said hey, I need to be put in contact with some of the Moses Lake hotels and he took lead on that and there were ultimately three hotels that said yeah, whatever it takes. So we weren't in any condition, and of course the roads were getting worse, to travel the additional 140 miles to Spokane, so really thankful for all the help the Moses Lake community showed in putting us up for the night there."
Did you stay there Friday night too?
"We did. Our bus drivers, I had asked them to help make runs from the various hospitals once kids started getting discharged. So by the time they got done, in light of the number of hours they are required to have of sleep when they're off the clock – and also the information we were getting in regards to the pass and what was going to be happening the next day – by the time we were going to be able to legally get back on the road also led to my decision that we were going to stay the additional night also out of consideration to the kids that were still in the hospital."
Who came up with the idea for the WSU Band to play Bow Down To Washington?
"I can't tell you how much that meant to all of us."
Being there, it was incredibly classy. And it showed just how close the band community is, probably a lot closer than people imagine…
"You hit the nail on the head right there. Our staffs have always been close. So many of our kids – ours and theirs – grew up in band together at the elementary and middle school and high school. So we're probably a lot closer than most college bands would be. (Band Director Troy Bennefield) reached out to me that night to voice their concern and thoughts and prayers, but also the next morning. He said hey, we'd like to do this. Is there any way you could get us the music? We emailed them a file right away and I guess they passed it out and practiced that morning and performed it that afternoon."
We saw them going through their routine pre-game and then saw them do it. It was a cool moment.
"I contacted them and on behalf of the kids thanked them so much for that classy act. We also found out that the (WSU) athletic department made the decision not to sell the seats we were going to be sitting in, so I thought that showed a lot of class as well."
If the wonderful @huskyband is able to come down tomorrow after tonight's accident, DO NOT boo those kids. Applaud their efforts and sacrifice to be here supporting their team and university. Please spread the word.


— WSU Marching Band (@WSUCMB) November 23, 2018
What did you think when you saw the empty stands on TV?
"I hadn't had a chance to get the word out to the kids that they would be doing that. They had been told the Cougar Band was going to honor us with the playing of Bow Down (To Washington). So when they did that segment during the broadcast, we were gathered in the various hotels, watching the game. It got real quiet and it was also really uplifting for the kids knowing here was our biggest rivals putting the rivalry aside to do this for us. It meant a lot.
"Early the next morning following the game, I got a text from Jen Cohen simply saying, "this win was for you guys," and included was a video from Coach Pete that he evidently recorded right after the game letting us know how much we were on the minds of the players and that the team was presenting us with the game ball. Needless to say, that was incredibly meaningful!"
Talk about the reaction from the athletics community when you got home…
"It was incredible. We weren't expecting it at all. I knew that probably a lot of the band members' parents would be there to see their kids and pick them up, but when the five busses – actually the cheerleaders had to spend the night in Pullman because of the weather, so they didn't come back with us, they came back separately – pulled up to the athletic department, there were hundreds of supporters. Not only band parents, but band alumni, my colleagues in the athletic department and then to have Coach Pete and the football team and Coach Hopkins and the Men's Basketball team out there just really…they have no idea what that did for the spirits of my kids."
With all the chaos and picking up the pieces, was there ever a thought of not going to Santa Clara?
"There really wasn't any discussion of that. In my many discussions with Jen Cohen, everybody was just focused on how the band members are doing and getting everybody home. When we got home, that's when we started the discussion of how many we could get down there and then also tracking the improvement of the kids that were hurt to see if they could go. If they could, certainly make sure they were given the opportunity to go down. I've got some kids that are going down there that are part of the band that aren't going to be able to perform but certainly wanted to make sure if they were cleared to go down that they were able to."
Was there ever a sense that it was even more important to make sure the band had a presence down there on Friday than before?
"I know for me personally, I needed to get back to rehearsal. I needed Monday night's practice session. That was our first time together since getting back. We were spread across three hotels in Moses Lake. I needed it and it became pretty obvious pretty quick that it was pretty cathartic for the entire band. When we got together and once everybody got going and started playing and we started focusing on what we needed to do to prepare for this Friday night, I do think it was as good for them as it was for me."
So do you feel now that there's a sense of resolve to get down there and perform?
"I'm not sure resolve is the best word to use. We're really focused on having to come together and there's challenges for us because of this. But everyone is so focused on coming together. We've had to take some of our younger members that were not scheduled to march halftime on Friday night and plug them into some of the positions of some of the injured kids. There's been a lot of adjustments that have had to be made, both at Monday night's practice and last night's practice.
"To give you an idea, usually the shortest amount of time it takes to teach the students a show and for them to learn all the music and all the positions – the shortest amount of time we ever try and do that is five days, one week. There's going to be some kids out there Friday night that have jumped in to some of the positions and learned a spot and learned the music in basically half that amount of time.
"I didn't have enough kids to fill all the holes. I've had to bring in a handful of alumni to help out too, but it's been all hands on deck – whether it be the veterans, the rookies of the band, the first year members – in this case even some recent alums."
Obviously the response from the WSU Band was notable, but there were also some other online tributes, like the one the Florida Marching Band did with a video on Twitter. What has it been like for you to see the band community come together like it did?
"Incredibly heartwarming. The band director fraternity, so to speak, is pretty tight-knit around the country. But to see the kids reaching out…and a lot of these were not motivated or initiated by the band directors. The kids were like hey, can we do this? For what Florida did and several other bands did – whether it was just a posting or if they went to the extent of…one back played a hymn for the band. It's been really incredible the support from schools the Huskies have never played, we've never seen their bands. Those directors, I don't know. But for them to do what they did in the few hours after the accident, I can't tell you what it did to lift the spirits of all the kids, especially while we were held up in Moses Lake."
Wishing the University of Washington's Marching Band a speedy recovery! Thinking of you all from our side of the country to yours! #bandlove pic.twitter.com/xNRw5Ly1YQ


— Gator Marching Band (@UFGatorBand) November 23, 2018