If @bola_dee_baller has watched VT Basketball this season he should see just how big of a role Kerry Blackshear has. That would be him at VT playing for Buzz. #ThisIsHome pic.twitter.com/tbN2HP78qY— HokieNation (@VTHokie_Nation) December 10, 2018
GAME INFORMATION
Date/Time: December 15th 7PM
Opponent: Washington Huskies
Site: Boardwalk Hall, Atlantic City, NJ
Radio: Virginia Tech IMG Sports Network
Talent: Jon Laaser & Mike Burnop
TV: ESPNU
Live Stats: HokieSports.com
Game Notes: Virginia Tech
SXM 193 (Streaming 955)
Get your popcorn ready 🍿We got a good one on tap for Saturday in Atlantic City at the #BoardwalkClassic!#getBETTER | #Hokies 🦃 pic.twitter.com/CwwI7VS3jl— Virginia Tech Men's Basketball (@HokiesMBB) December 14, 2018
Boardwalk Baby – Boardwalk Classic
Buzzketball is on the road in a neutral setting against the Washington Huskies. This will be the fourth meeting of the two programs going back as far as January of 1923, when Tech suffered a 28-20 loss to the Huskies. The Hokies dominated the 2017 version of Meet the Huskies on a Neutral Floor, winning 103-79 in a game that was much worse than the final score as the Hokies allowed Washington to get back within sneezing distance late in the game. Don't expect this years contest to be quite the offensive show, as the Huskies are a much more balanced group this season.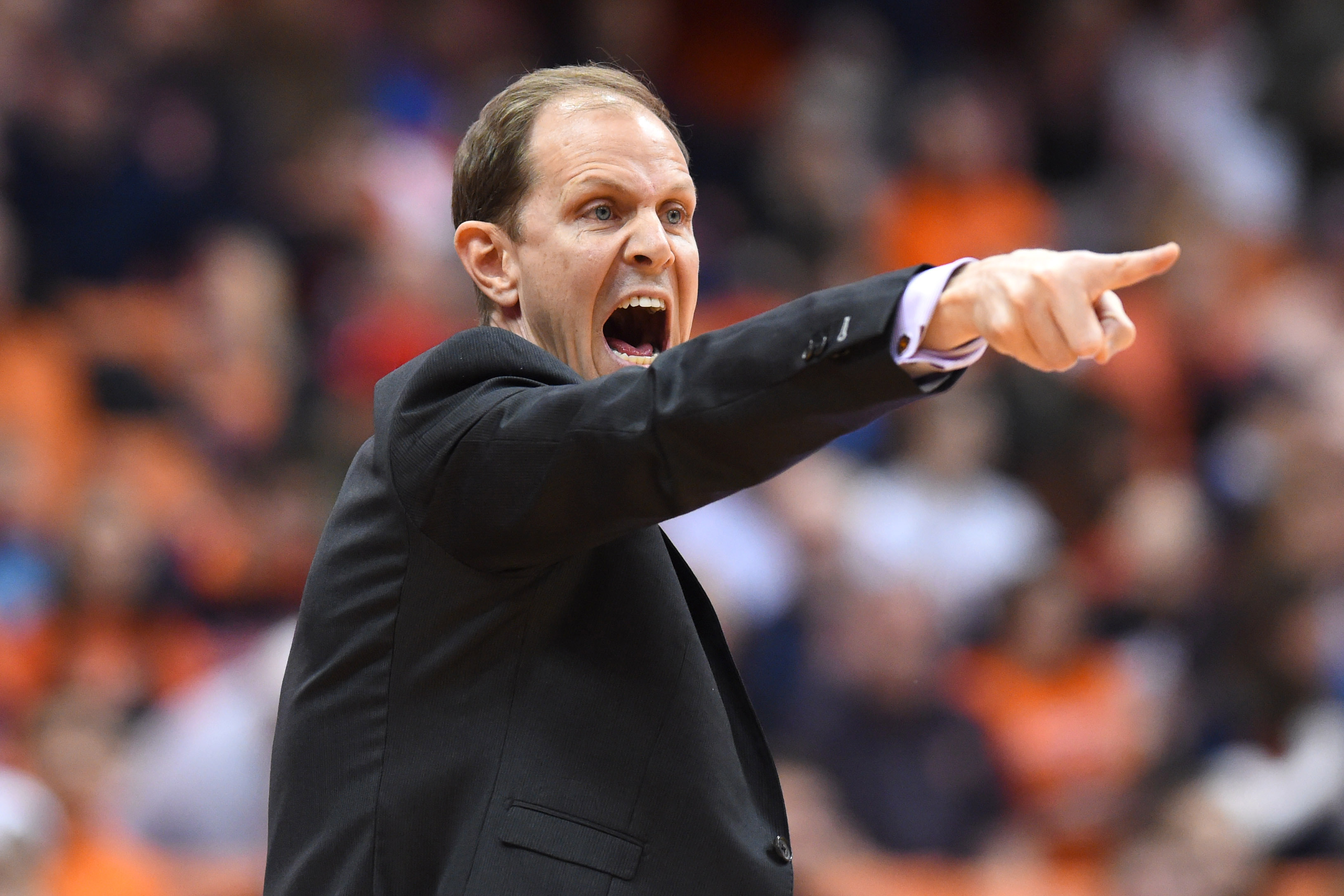 The Huskies are coached by Mike Hopkins, who is in his second season at the helm for Washington, after spending two decades as a Jim Boeheim assistant. Hopkins was even named head coach in waiting at Syracuse when Boeheim was supposed to retire, and walked away when it was clear that Boeheim was going to renege on his commitment to retire. He is 28-16 as the head coach of the Huskies and is 32-21 as a head coach, having coached Syracuse for nine games during Boeheim's suspension.
The Huskies come in 7-3, with wins over Western Kentucky, San Diego, Santa Clara, Texas A&M, Eastern Washington, UC-Santa Barbara, and Seattle. The losses are to #11 Auburn by 22, Minnesota by 2, and #1 Gonzaga by 2, giving up a jumper with a half second to play. They return their top seven scorers from last season.
Defensively, Coach Hopkins as a Boeheim disciple, utilizes the Syracuse 2-3 Zone, which focuses on taking away an opponents shot while not giving up easy driving lanes. There is also a huge focus on preventing the high post pass and disrupting return passes from the high post to the top of the key, leading to turnovers. The most critical position in this defense is actually the center, who has to be able to know when to sag low in the lane to prevent penetration on the baseline as well as when to press up to prevent interior passing.
Offensively, you might call Coach Hopkins's philosophy First the Three but talent prevails, as he wants his team to get up perimeter shots, but with the players he currently has, they are much more proficient in the short jumper or back to the basket lane scoring. This team is also very efficient in driving to the basket to score or get to the line. They are reaching the free throw line 23.5 attempts per game right now, hitting 72% as a team. They have a deadly mid-range to inside tandem in Nowell and Dickerson, combining for 35 points per game so far, or about 45% of the offense for the Huskies.
Huskies Backcourt

Sophomore Guard Jaylen Nowell (#5), 6'4, 200 lbs, is in his second season starting for the Huskies. He is averaging 18.8 PPG, while also pulling down 4.6 RPG and dishing out 3.4 APG. He is shooting 57% from the field and is greatly improved outside, shooting 44% so far and is making 72% of his free throws.

Senior Guard David Crisp, (#1), 6′, 185 Lbs is averaging 9.3 PPG, 3.5 RPG, and 2.9 APG as the starting point guard. He has grabbed 1 SPG as well. He is hitting a dreadful 37% from the field while hitting 28% of his three pointers. He is also hitting 68% of his free throws.

Matisse Thybulle (#4), 6'5, 190 Lbs Senior Guard is averaging 7.8 PPG, 2.9 RPG, and 2 APG so far. He also has 2.6 SPG and is typically responsible for covering the top of the key disrupting passes to the interior. He is shooting 60% inside and 26% outside. He is also shooting 85% from the free throw line.
Huskies Frontcourt

Noah Dickerson, (#15) 6'8, 225 lbs Senior Forward is averaging 16.4 PPG, 7.2 RPG and 0.6 APG while shooting 55% from inside, with no attempt at an outside shot and 75% from the line. He also adds 1.2 SPG and 0.7 BPG on the defensive end.

Dominic Green, (#22), 6'6, 185 Lbs Senior Forward is averaging 7.5 PPG and 3.4 RPG. Defensively he adds just over a half a block per game. He is shooting 40% from inside, 40% from outside and 78% from the free throw line.

Nahziah Carter, (#11), 6'6, 205 Lbs Sophomore Forward is averaging 6.9 PPG, 2.5 RPG and 0.5 APG. He is shooting 50% inside and 24% outside while hitting 73% of his free throws. Carter plays about 18 minutes per game.

Hameir Wright, (#13) 6'9, 215 Lbs Sophomore Forward is averaging 3 PPG, 3.6 RPG, and 1 APG. Wright is getting about 20 minutes per game playing time. He is shooting a dreadful 22% from the floor and even worse 18% from outside. He does however contribute 1.8 BPG on the defensive end.

Sam Timmins, (#33), 6'10, 275 Lbs New Zealander Junior Forward so far is only getting 10 minutes per contest which is a much diminished role for the Forward compared to his two previous seasons. I have not been able to find a reference to an injury but he comes in averaging 1.4 PPG, 2.3 RPG, and 0.6 BPG so far this season in limited time.
What to expect from Washington?
Washington are averaging 7.3 steals per game so far this season and turning opponents over 14 times per game so something to be aware of as the Hokies bring the ball up the court. It's an aggressive 2-3 Zone that works hard to disrupt the passing lanes, especially to the interior.
This team will look to penetrate to the rim or find the open jump shot. Currently, the Huskies have scored 368 points on the inside and only 195 points from the perimeter this season. They also have 170 points from the free throw line, the majority of which has come from dribble penetration. This will be something to keep an eye on as no other Tech opponent this season has been nearly as aggressive getting the ball inside as the Huskies will in this contest.
The Huskies this season have an abundance of bigs, but it's a two edged sword, the size goes up and the talent level goes down. The bigger the Hokies can force the Huskies to be on the floor the better, especially if they can get one of the three critical guards in foul trouble, as the depth behind them is not utilized much. Along this line, the Huskies have four players averaging over 26 minutes per game so far, lead by Nowell at 34 and Crisp at 33. Dickerson's time varies just the way Blackshear's does, so fouls down low are critical for both teams in this game.
The Huskies come in fouling opponents 18.7 times per contest, which is fairly average for college basketball. Opponents have however reached the free throw line 20 times per game which is much different than the 15 times the Hokies are currently getting to the line.
The Hokies
This game sets up well for NAW to have a big game penetrating to the basket and Hill and Outlaw getting a lot of looks outside. The Hokies will get the Huskies moving left to right, creating those holes in the zone to have open looks from the corner.
The Hokies will need to find a way to keep their offense moving against the road block of the 2-3 zone. If they get bogged down, it benefits the Huskies, but if they can find their stride it obviously works in Tech's favor. One area that could be a critical turning point in this contest is baskets in transition. If you get ahead of their zone and complete your offense before they get set, you destroy their entire defensive philosophy. Create turnovers and get out front. Washington is committing 13.3 turnovers per contest.
Game ten and still no new news on Nolley. At this point, I almost expect a Redshirt season, which is too bad because having Nolley around for the end run this season could be a critical turning point in this program. Next year there will still be plenty of talent but much of the depth and scoring will be gone so the Hokies will be relying on multiple new pieces to come together rather than work seamlessly like they show at times this season.
Neither team is likely to be in foul trouble much of the game. Turns out the Hokies have allowed the fewest made free throws in the NCAA and the second fewest attempts. 65 made of 97 attempted. Washington opponents are 138 of 202. The Hokies however have committed the 33rd fewest fouls, the discrepancy of course being how many offensive fouls the Hokies have picked up this season.
In Closing
Washington is a bit of a conundrum. They are a very experienced lineup with four seniors in the starting five, but these are the same five players that the Hokies beat by 24 last season when they were arguably less talented. That said, the Huskies have had a full season of working in the 2-3 zone now as well as opposed to only 5 games last year before facing this offense. This is a Huskies team that also just took Gonzaga to the buzzer.
This game will come down to execution and ability to play through the light crowd that will likely be on hand at this neutral site game. The Hokies don't face a cross country trip to be here for it but the St Louis game last year at Madison Square Garden is still fresh on everyones mind.
The X-Factor in this game is the Hokies defense. If they come out and play like they have most of the last three games then this could be a decisive victory. If they come out flat and lackadaisical than Washington could build an early lead and then milk it in the 2-3 zone, hoping to force the Hokies to use the entire shot clock.
Hokies win if they reach 80 points. Final score 87-75, with a late push by Blackshear with Dickerson on the bench for the Huskies.