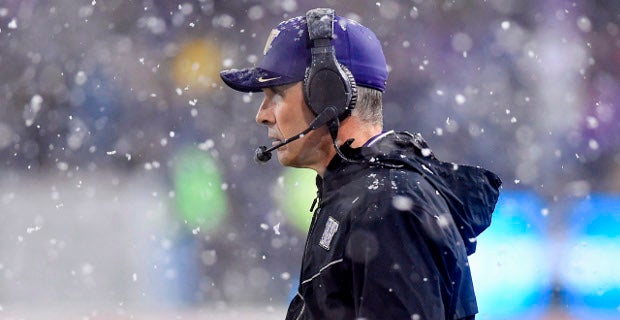 Because of a shortened week, Washington head coach Chris Petersen met with the media on Sunday instead of Monday, but he still had a lot to talk about including the efforts by his defense and offense to beat Washington State on Friday night in the 111th Apple Cup while also looking ahead to the Pac 12 Championship Game against Utah this coming Friday in Santa Clara, Ca….
Petersen said he was proud of how the team fought all season to put themselves into a position to win the conference and at the beginning of the season, that's what they wanted, the chance to win the conference championship.

Said that the team tackled well in space despite the snow.

Noted that one slip and a huge play can happen, but he also wondered if it was an offensive or defensive advantage in those conditions.

Felt that Myles Gaskin and Salvon Ahmed did a really good job on Friday night making guys miss and keeping plays and drives alive.

Asked about not throwing the ball down the field, aside from Jake Browning's one long completion to Andre Baccellia in the first half, he said the conditions really didn't allow it.

On the final drive, Petersen said that he was really happy with an eight-minute (8:47 actually) drive to end the game and said they were just hoping for a couple of first downs and to chew up some clock, but said that the "kids just executed" despite the conditions.

Said it was "really huge" how the defense stepped up after the two first-half turnovers and allowed zero points off of them. He said momentum was swinging the other way after the fumbled kickoff, but the defense stepped up and made a big play — Byron Murphy's interception.

On Trey Adams, he said that it was great to get him back in and to get some work.

On the blocked extra points, he said the hold wasn't exactly what it needed to be and the conditions played a factor in it.

He said the game was "so different" from what they thought it'd be due to the conditions because it took away some of the explosive elements of the offenses.

On getting pressure with just three players, he said "it's a lot of effort" and for them to "rush hard" and get pressure, that helped them cause problems for the Washington State offense.

On Hunter Bryant's progress, Petersen said he's just a playmaker. He said on the first one that went for 59 yards, he wasn't even sure it was intended for Bryant, but when it's in his area, Hunter thinks it's his.

On the double-pass from Aaron Fuller to Bryant, Petersen credited Bush Hamdan with the play call and said he was actually surprised they called it when they did, but WSU wound up lining up in the exact defense they were expecting and it worked.

On Browning's first interception, Petersen acknowledged that the QB didn't see the defensive back, but also said that the receiver has to do a better job and not drift back and take a better line.

Asked about Utah, Petersen said that no team stays the same and the Utes have gotten a lot better since they played them in September.

He noted they are in a groove on offense and they like to run the ball and the quarterback and keep you honest and they like to get the ball to Britain Covey in different ways and their defense is "lights out".

Asked about if having to play at team a second time for the conference championship (they only played Colorado once in 2016) makes things tougher and he said that while it's a good question, he doesn't see an advantage or disadvantage because things change, so it's hard to tell how much you can know from one game to the other.

He said they are a better team on defense than they were the last time they played.

On the progress of Brandon Wellington, Petersen said that he can really run and he's athletic and aggressive and that, like Joe Tryon, he's a guy who has gotten better and better with each rep.

On the matchup with Utah being a close one, Petersen said he sees another even matchup and that the defenses will keep things close for both sides. He said Washington will need to play its best game of the season.

Asked about Utah's comeback vs. BYU, Petersen said he knew they'd make a run and it was a fun game to watch.