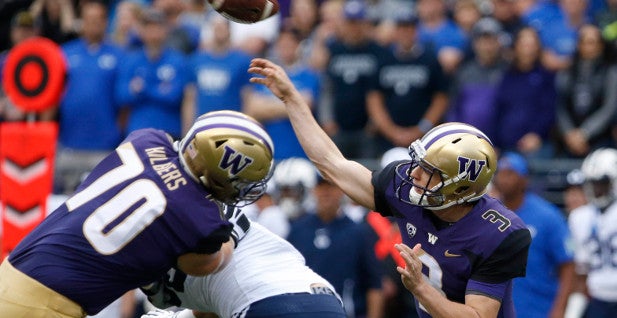 Washington got a dominant, 35-7 win over BYU at Husky Stadium on Saturday, using Jake Browning's record-setting day and a stifling defense that allowed the Cougars just seven first downs and 194 yards of offense.
The guys from Dawgman.com had wall-to-wall coverage, from in-game updates and statistics, to post-game interviews, DawgmanRadio recap of the game, opinion, analysis, notes and more. 
To view all the content from their big win, click on the links below. 
Washington Post-Game Notes – BYU
Only One Statistic Matters to Jimmy Lake
Is UW Getting Closer to Finding Its Offensive Identity?
Nick Harris Says Washington's Running Backs Make Blocking Easy
Fuller Says Washington Stuck to Their Keys in 35-7 Win Over BYU
Salvon Ahmed Eager to Give Offensive Line Their Due
Myles Bryant Says The Husky Defense is Always Around the Ball
Bartlett Says UW Defense Has Been Solid But Can Be Even Better
Petersen Hails Complete Team Performance in Rout of BYU
Jake Browning Felt a Game like this was coming
Washington vs. BYU Photo Gallery
Washington Gets Dominant Win Over BYU
LIVE UPDATES FROM HUSKY STADIUM: BYU v. Washington