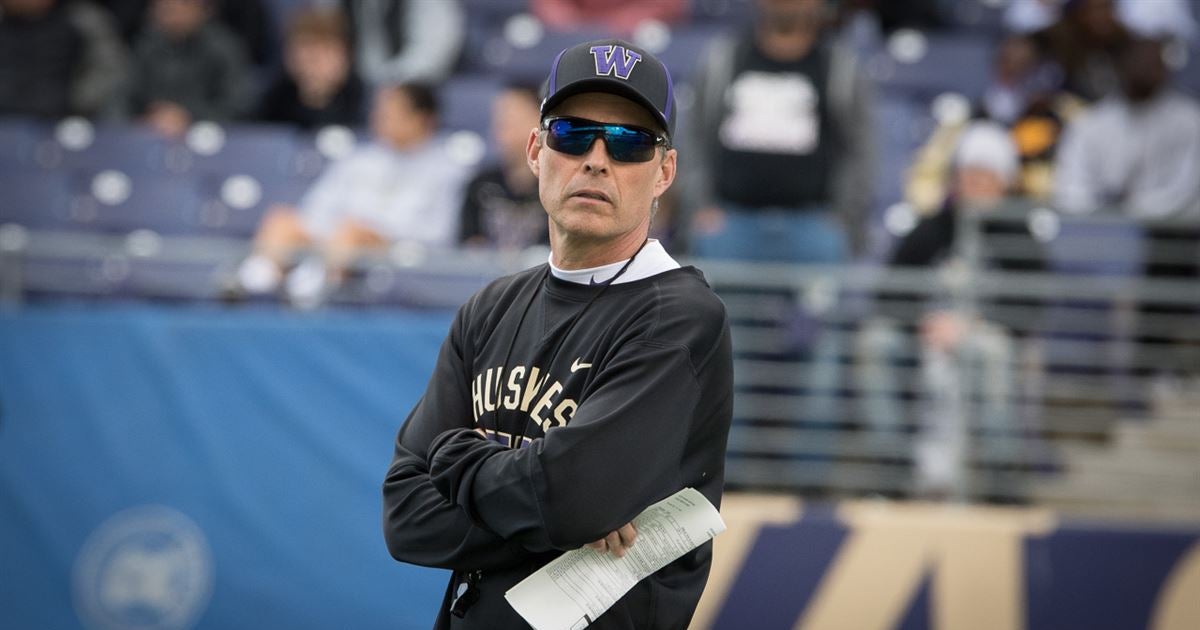 Washington Head Coach Chris Petersen addressed the media after a two-hour practice on Day 7 Friday that was full of scrimmaging and a lot of plays that were put on tape that they can go and look at to see how they did. And according to Petersen, his initial impression of practice was that – of the three phases of play between offense, defense, and special teams, only one phase looked good. The other two need work.
Undoubtedly he was referring to another impressive defensive performance that included five interceptions, two from freshman defensive back Julius Irvin.
Petersen spoke about getting through the grind and focusing in on what they need to get accomplished during these 'Dawg Days' of fall camp, as well as the off-site practice the team had Wednesday, a practice that included some live tackling he said went very well.
On the team having attention to detail
"On one phase – offense, defense, special teams – one phase is looking pretty good. The other two we have some work to do. And you guys watch practice, so I'll let you figure what side looks good where we've got a lot of work to do."
What do you learn from your kickers when you put them in pressure situations like tonight?
"That we've got a lot of work to do. That's what it is, that we've got a lot of work to do. It's hard in here (Husky Stadium), little bit of wind here. The ball is blowing around a little bit but we're going to have to kick in wind for real, so we've got to be able to kick in all elements."
Are you where you'd hope you would be after a week?
"It's always hard to know when you're against yourself the whole time. I think we're making some improvements. Sometimes it's two steps forward, two steps backwards. But I think we keep looking at individuals getting better and then eventually we'll be able to put the whole thing together."
Will you talk at all with the team about the game in Atlanta a couple years ago considering a lot of the team is still at UW that played in that game?
"I don't know. We're so far from that. We really are. We've got a couple weeks left before we start talking about that. The way we talk to our team is the way we need to talk to them. We can't make it up two weeks out because we don't know where we're going to be at that time. We'll kind of figure out where we think we are and call it as we see it, be honest with our guys to what we need to do to go win a game."
What's the most important thing about going off-site, like you did a couple days ago?
"Just stay focused. We ride on a bus for 30 minutes and get tired and the we've got to go back up, so it's just about being locked in, being somewhere a little bit different. They aren't sure where the field is, what side of the field they are going to be on. So it's a lot of little things. It's good to look at some different scenery as well. We feel strongly in it. We usually challenge our guys like that and have one of our better practices, and the kids worked hard the other day."
Does it coincide with the time during fall camp when the first-year players are starting to hit the wall?
"I think they hit that wall about half-way through the first practice, to tell you the truth. Some of these guys. This is probably the time where a lot of guys are starting to hit the wall in terms of the mental part of things. You can see it on offense here. Sometimes it looks even worse and worse because we're putting new concepts in where some of the old concepts we still don't have completely dialed in. So that's what you see. Not only the freshmen, but certainly even some young guys that we have that don't really know all the schemes yet but whole, part whole – we'll put 'em in, clean 'em up, put 'em back in, clean 'em up and they'll improve."
Did you do any live tackling during that scrimmage?
"Yeah. We had a little bit of live and we did a lot of different things, so it was good."
What have you seen from Benning so far in camp?
"Benning's had a good camp. He's played hard, he's been very focused. I've seen him take a step in these seven practices. So we'll see what happens the next seven practices. But he's got off to a good start."
How about Jaylen Johnson?
"I think Jaylen, he's been doing a nice job. I always think he has more to him. I don't mean that in a negative way. I just think he's got more to him. You see flashes where he could be a real dominating player. He's had a good camp and if he keeps pushing through this whole thing you could see a different-type player than we saw in the past."
Is this as deep as you've ever been in the secondary?
"We've had some good players come in, and we play so many. It's like playing offensive line. And it's different than the offensive line because offensive line you just play five guys and those guys have to have a rhythm together. You don't need that in the secondary, so you can get guys a lot of reps and you can play 'em and you can develop them and bring them along because we play so many guys. We recruit good guys and it's a good situation for the DB's.
Julius Irvin and Dominique Hampton are making a ton of plays. Are they ahead of the curve?
"They've been doing a nice job, and throw Kyler Gordon in there. I don't see any difference in all three of those guys. Those guys are all playing at a really good level and competing and looking like they've been here before. Those are fun guys to watch. Those are guys you're paying really close attention to that could be a factor in the fall."
Is (walk-on defensive back) Sean Vergara a good example of what your program is all about?
"He's awesome. Sean is great. Everybody on the team loves him. He works his tail off. He's a really good athlete and he's a good player. You see him make plays out there. I think he had two picks himself the other day when we were off-site. And then he's super, super talented with his art and drawing. He's super-creative. Yeah, he's one of those guys. To me, you'd like the kids at Washington to be all about…they're really talented at football but they've got unique other skills too. He's just found his before a lot of other guys found their other passions and talents."