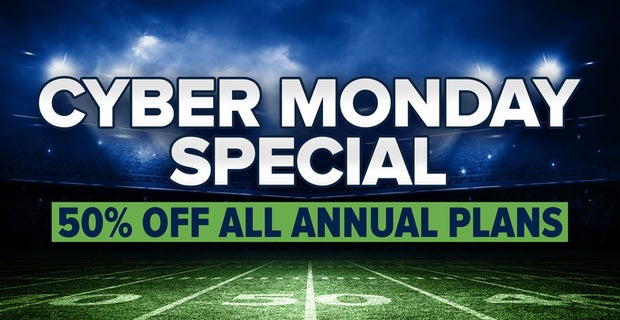 From everyone at Dawgman.com, we hope you have had a relaxing and enjoyable Thanksgiving weekend. Now that the holiday is over, we've got an extra treat for you!
Today only, new subscribers and existing monthly subscribers can get 50% OFF an Annual VIP Subscription to Dawgman.com for your first year… seriously. That's like getting six months free. All you have to do is use the coupon code CYBER2018 when checking out!
Remember, this offer is good for today only, so hurry up and take advantage of it:
GET 50% OFF HERE NOW WITH CODE CYBER2018!
(Existing monthly members, click here for detailed instructions on how to upgrade!)
With an Annual subscription, you'll get unlimited access to:
– Year-round coverage of Washington Huskies football recruiting – and everything that comes with the lead-up to Signing Day in February, and the Early Signing Period in December, all from our team of insiders. Get the latest scoop on all things Washington Huskies football, basketball and recruiting.
You'll get our world-renown exclusive recruiting coverage, in-depth members-only content and message boards, and unlimited access to our team of Dawgman.com and 247Sports insiders, people like Scott Eklund, Chris Fetters, Kim Grinolds, Brandon Huffman, Greg Biggins, Blair Angulo, and more.
With the Dawgman guys, you're getting decades-worth of experience covering Washington athletics. Scott Eklund has been with Dawgman.com for nearly 20 years and has come to be the trusted source for everything that has to do with Huskies football recruiting. Chris Fetters has been the Editor-in-Chief and a recruiting analyst for Dawgman.com for 20 years. During that span, no one has covered more UW football and Men's Basketball games than he has – not even the local newspapers. And no one is more dialed in with the comings and goings around the Washington athletic department than Grinolds, one of the co-founders and CEO of Dawgman.com.
The 247Sports recruiting team, especially the group out west headlined by Huffman, Biggins and Angulo, are simply the best in the business. Their track record speaks for itself.
Check out Scott Eklund's latest recruiting blog. Almost to a subscriber, they find these blogs to be essential reading when understanding where Washington recruiting is at any given point in time. And since the early signing period is a little over three weeks away, expect to see more blogs as things heat up and the Huskies push their way through to the finish line. They currently own the 17th-best recruiting class in the country, rated by 247Sports. That's good enough to be currently second in the Pac-12. Where will they end up in a little over three weeks? Come join us for all the action and find out!
– Dawgman.com's message board has an outstanding community of fans discussing anything and everything related to the Huskies. Members can see and respond to every single thread. Right now there's a ton of talk about Washington's Apple Cup victory and what the Huskies face in Utah this coming Friday in the Pac-12 Championship game.
– An ad-free forum experience – say goodbye to ads and hello to insider news and analysis
– An unmatched mobile platform. From the Crystal Ball to the 247Composite rankings, no site will bring you a more detailed layout of where things stand with Washington Huskies recruits, all on a slick mobile platform.
– With our five-star package, you also get an annual subscription to SportsLine, the top sports picks and projections site on the Web ($99.99 value) featuring NFL, college football, college basketball, NBA golf, horse racing, and a heck of a lot more.
GET 50% OFF AN ANNUAL SUBSCRIPTION HERE – USE CODE CYBER2018
Need more help? Click here for detailed instructions on how to use the coupon!
Hurry – this offer ends on Monday, November 26 at 11:59pm ET. Go, go, go!
Terms: This offer is only available for new members and current monthly members to 247Sports, and only available with the code CYBER2018. This offer expires on Monday, November 26 at 11:59pm ET. Subscription will re-bill on an annual basis at the regular rate. Please e-mail [email protected] with any questions.