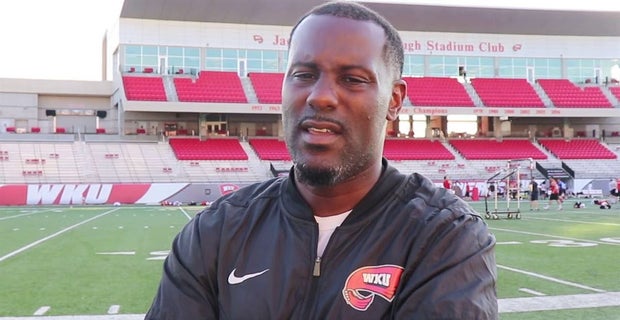 Junior Adams, a coach with long-standing ties with Chris Petersen's coaching tree and the state of Washington – including a stint as Cooper Kupp's coach at Eastern Washington – has been hired to be Washington's receivers coach.
Bruce Feldman from Fox Sports and The Athletic broke the news on Twitter.
It was a quick switch for Adams, who was hired on January 6 to become an offensive assistant coach at Appalachian State under Eliah Drinkwitz, who was also an assistant coach under Harsin at Boise State in 2014 and 2015.
It's a position he coached at Boise State from 2014-2016 under Bryan Harsin after Petersen left BSU to become Washington's Head Coach.
Adams, who has coached in the postseason in eight of the last 10 years, was part of two conference championships in three years at Boise State after he helped Eastern Washington win a national championship as its receivers coach in 2010. Following a 2016 season as the receivers coach and passing game coordinator at Boise State, which had the first pair of 1,000-yard receivers in school history, he became the offensive coordinator for Western Kentucky the past two seasons.
As a player, Adams caught 66 passes for 983 yards and eight touchdowns as a Montana State senior in 2002. He had the game-winning touchdown against rival Montana in a 10-7 victory that helped the Bobcats earn a share of the Big Sky Conference title.
He remained in Bozeman to serve as a wide receivers and returns coach, then spent the 2007 season in the same capacity at Prosser High School, where he helped head coach Tom Moore's team (with Kirby Moore) go 14-0 and win the WIAA 2A state title. He spent one season at Chattanooga in 2008 before starting his successful five-year run at Eastern Washington.
Adams developed four other 1,000-yard receivers at EWU, including Brandon Kaufman, who broke the FCS receiving record with 1,850 yards during the program's national title season in 2010. He was the Eagles Receivers Coach when they came to Seattle and almost pulled an upset in 2011, losing 30-27 to a Desmond Trufant pick in the end zone.
In Adams' five seasons with Eastern Washington from 2009-13, the team finished in the top 10 in the FCS in passing offense four times, ranking No. 1 in 2011 with 368.4 passing yards per game. The 2013 team had two players rank in the top 10 in receiving yardage, led by current NFL standout Kupp and his FCS-leading 1,691 yards with 21 touchdowns as a freshman. Kupp won the Jerry Rice Award as the top FCS freshman and joined Randy Moss as the only other freshman receiver since 1990 to earn first-team FCS All-America honors early in a career that concluded with him winning the Walter Payton Award as the top FCS player.
Under Adams' direction at Boise State, their passing game and wide receivers set numerous records. In 2016, the Broncos ranked 15th nationally with 298.3 passing yards per game to go along with top-10 rankings in passer rating (No. 9, 161.38) and yards per pass attempt (No. 7, 9.6). Wilson developed into one of the nation's top big-play threats with a yards-per-catch average of 20.2 that ranked No. 8 nationally, and Sperbeck also surpassed 1,000 receiving yards to make Boise State one of only four teams with a pair of 1,000-yard receivers that season.
Adams also has NFL experience from working training camps with the Oakland Raiders (2010), Indianapolis Colts (2011) and Minnesota Vikings (2012) as a recipient of grants from the Bill Walsh Minority Coaching Fellowship.
Born on Oct. 20, 1979, Adams' full name is Alton J. Adams Jr. He graduated from Montana State in 2004 with a degree in sociology.
QUOTES
Cooper Kupp on Adams…
"I've had many coaches throughout my career as a football player, but none have had a greater impact on me than Coach Adams. His ability to coach the wide receiver position is unmatched due to his knowledge of the game as a whole, as well as his ability to maximize the potential of every one of his players both physically and mentally. The best there is."
THE ADAMS FILE
PERSONAL
Born: Oct. 20, 1979
Hometown: Fremont, Calif.
College: Montana State, `04
PLAYING CAREER (Wide Receiver)
College: Oregon State (1999-00); Montana State (2001-02)
COACHING CAREER
2004-06: Montana State (Wide Receivers/Kick Returners)
2007: Prosser HS (Wash.) (Wide Receivers/Kick Returners)
2008: Chattanooga (Assistant)
2009-13: Eastern Washington (Wide Receivers)
2014-15: Boise State (Wide Receivers)
2016: Boise State (Passing Game Coordinator/Wide Receivers)
2017-18: WKU (Offensive Coordinator/Wide Receivers)
2019: Appalachian State (Offensive Assistant)
2019: Washington (Receivers)
BOWL EXPERIENCE
2000: Fiesta (Oregon State, Player)
2014: Fiesta (Boise State, Coach)
2015: Poinsettia (Boise State, Coach)
2016: Cactus (Boise State, Coach)
2017: Cure (WKU, Coach)