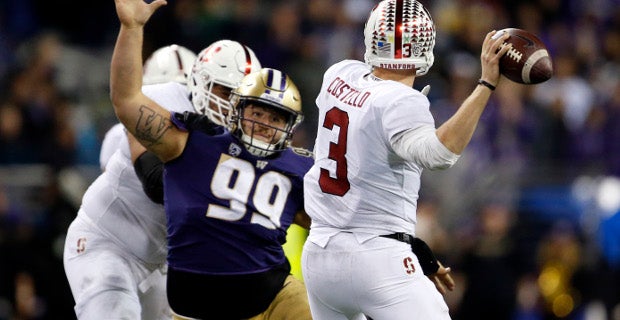 As announced on Sports Radio KJR just a few minutes ago, Washington offensive tackle Kaleb McGary and defensive lineman Greg Gaines have won the 2018 Morris Trophy.
Congrats to @UW_Football's Greg Gaines on defense and Kaleb McGary on offense, winners of the #2018 #MorrisTrophy!


— Sports Radio KJR (@SportsRadioKJR) December 10, 2018
The Morris Trophy, awarded by the Washington Athletic Club, is a one of kind award in that it is the only college football trophy voted on by the true experts: the players. It's a Pac-12 award, and it's awarded to arguably the most under-appreciated players in the game: the linemen.
In 2017, Washington defensive lineman Vita Vea won the Morris Trophy for defensive players.
This is the fifth time the award has been given to players from the same team the same year, and the second time for Washington.
1982 USC Bruce Matthews and George Achica
1988 Arizona Joe Tofflemire and Dana Wells
1991 Washington Lincoln Kennedy and Steve Emtman
2006 USC Ryan Kalil and Sedrick Ellis
2018 Washington Kaleb McGary and Greg Gaines
McGary, a 6-foot-8, 324-pound offensive lineman from Fife, Wash., is a 2018 All-Pac-12 First Team selection and has started every game for Washington at right tackle the past three seasons – 40 overall. He's started in 46 games in his four years and has played in 52 games altogether.
Gaines, a 6-foot-2, 316-pound defensive lineman from La Habra, Calif., is also a 2018 All-Pac-12 First Team selection and a Second Team All-Pac-12 Academic pick. Like McGary, Gaines has started every game on the defensive line the past three seasons, and 46 in his career. He's played in 53 games as a Husky.