Bowl season is underway, and after winning the Big Ten Championship Game against Northwestern in early December, Ohio State heads to Pasadena nearly a month later to take on the Pac-12 champions, Washington, in The Rose Bowl Game presented by Northwestern Mutual.
While the point spread shows Ohio State as a definitive favorite currently, at about 7 points, the Buckeyes should not overlook the Huskies by any means. Chris Petersen is one of the top coaches in America, the UW defense is an elite unit, and the program comes into the game with tremendous momentum.
Joining Bucknuts to help give insight on what Washington brings to the table on Saturday is Chris Fetters of 247Sports' Dawgman.
Want daily inside scoop on the Buckeyes? Get VIP access with a 7-Day FREE Trial now!
Chris is Editor-in-Chief of Dawgman.com, the longest-running online authority on Washington Huskies football, basketball and recruiting coverage. He's been covering the day-to-day business of the the Huskies since 1997 with Dawgman on the original Rivals network, then with Scout.com, and now with 247Sports.
We thank Chris for joining us on this season's final edition of "Know The Enemy", and without further ado, have at it.
Bucknuts: Washington went 9-3 in the regular season with losses to Auburn, Cal, and Oregon, but ended up winning four in a row, including the Pac 12 Championship Game over Utah. How would you assess the Huskies' season against expectations entering the season?
Chris Fetters: Well, season expectations for any Pac-12 team is to make it to at least the Rose Bowl as the conference champion, so in that way Washington matched their expectations. And having started out ranked 6th and currently sitting at 9th, it's not as if things went horribly wrong for UW either. But the losses certainly didn't go the way that maybe some unexpected losses have gone the last few seasons. The losses this year felt like they were the result of self-inflicted wounds – like not making the field goal at the end to win at Oregon. Obviously 11-2 looks a lot better than 10-3. And then losing by 2 at Cal when the backup quarterback threw a pick-six had the feel of a panic move by Chris Petersen to find an answer instead of relying on his defense and special teams to gut out a win. So I've gotten the sense fans feel the record isn't indicative of what could have been.
BN: What is it about Chris Petersen that makes him such a great coach and makes his team such a tough out in a big game? What type of offense does his team run and what type of defense do they run?
CF: In dealing with a lot of coaches at Washington, many have been strictly results-based. They've gone from the win and worked their way backward to do whatever it took to get there. Petersen is the complete opposite. He's built the program and culture from the inside, using discipline and a serious work ethic to promote doing everything the right way. In his mind, if you do everything right, the result will take care of itself. It's simply a byproduct of the work that it took to get there.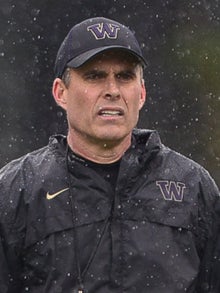 Offensively, they are multiple. They can run from under center or from shotgun. They can include a screen game, they'll go deep, they utilize their tight ends a lot. It's west coast at its essence, with the zone read principles added. They'll also add some option wrinkles from time to time in short yardage situations.
Defensively, they usually line up in an odd front and have gone to using a nickel back in their base quite a bit to deal with passing offenses. So they'll have the three defensive linemen, two outside linebackers, two inside 'backers and five defensive backs (using 4 LBs or 5 DBs depending on the situation). They'll blitz a little bit to make up for the fact that they don't generate a ton of consistent pressure, especially given how successful they've been defensively the past few years. Usually the blitzes will come from the safeties and linebackers up the middle. They don't typically crash too much from the edges.
BN: What are the strengths and weaknesses of UW on offense? What are the strengths and weaknesses of the Huskies on defense?
CF: The strength of the offense is their experience. They have a four-year starter at quarterback, running back, tight end, and their senior left tackle is back after missing a lot of the year rehabbing a knee injury sustained last year. They are a veteran group that normally doesn't get rattled and just has a knack for being able to move the chains.
Their weakness has been in the red zone. They've only been scoring touchdowns on a little more than half their drives once they get inside the 20. It's been a big problem.
Defensively, the strength is the overall unit. There's very few weaknesses. They are very balanced and veteran from front to back, having multiple seniors at every level. If they have a weakness, it's that their nickel back, Myles Bryant, is not a big guy. He's only about 5-9. He was exposed a little bit downfield in last year's Fiesta Bowl going against bigger receivers, and I could see Ohio State trying to do the same thing. But Bryant is a savvy defender and tough.
BN: Who are three players on offense for Washington that Ohio State fans need to know about? Who are three players on defense for the Buckeyes to be aware of?
CF: Well, the starting quarterback (Jake Browning) and starting running back (Myles Gaskin) are players Ohio State fans have to know about. Browning is UW's all-time passing quarterback, and Gaskin is the only running back in Pac-12 history to have four-straight 1,000-yard seasons. The third player is sophomore tight end Hunter Bryant. He's only been back a handful of games because of injury, but he's 100-percent again and a real handful down the field.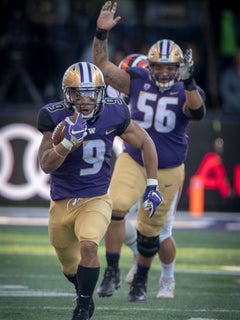 On defense, I'll pick one from each level. Greg Gaines is the Huskies' nose tackle and everything on the defensive line starts with him. At linebacker, Ben Burr-Kirven is an All-American. He's not the biggest guy (6-0, 221), but he is tough and super-smart, around the ball on every play. And in the secondary, cornerback Byron Murphy is already getting NFL looks even though he's a redshirt sophomore. We expect him to declare at some point after the Rose Bowl. He had a pick-six in the Pac-12 Championship game, the only touchdown for either team.
BN: What are three keys to the game for Washington if they want to win the Rose Bowl? In turn, what would you say three keys for OSU are to get the win over UW?
CF: To win, UW needs to win the turnover battle, make sure they can keep Ohio State's offense off the field, and do everything they can to keep the Buckeyes out of the end zone by turning potential touchdowns into field goals.
If Ohio State can limit Myles Gaskin and get pressure in Jake Browning's face, they'll have success getting the ball back. And if they win the field position battle and force UW to go long fields to score, that's not something they can sustain. They don't have the consistent big play capability to lighten the load.
BN: What is your prediction for the game?
CF: I'll have my prediction available on Dawgman.com on New Year's Eve, but I will say this: I know Washington will be up for this game. UW hasn't been in Pasadena on New Year's Day in 18 years, and they've been hearing all about that during the year. Chris Petersen understands how big it is for UW fans that they play well, even if it's a close loss. The Pac-12 has really taken it on the chin this season with all sorts of bad press, and not having a representative in the College Football Playoff for the second-straight year hasn't sat well out on the west coast either. Nationally, it's starting to feel like there's the SEC, the Big Ten, and then a few other teams out there. The Pac-12 has become an afterthought. So for those reasons I fully expect Washington to come out energized and well-prepared.
Since this is Urban Meyer's last game coaching at Ohio State – for now – I also expect the Buckeyes to be very emotional going into the Rose Bowl. I suspect, given Meyer's track record, they'll be able to use that emotion and direct it in a positive direction. No one questions Ohio State's offense, but can their defense match them? And conversely, can UW's offense match their defense?
There's no doubt the matchup of Ohio State's offense versus Washington's defense is the one people are going to talk about for the next week. But I think the winner of the game just might be the one who wins the battle of UW's offense versus Ohio State's defense. And there may be a special teams play that factors into it, too.
Thanks again to Chris for joining us on "Know The Enemy". You can follow him on Twitter