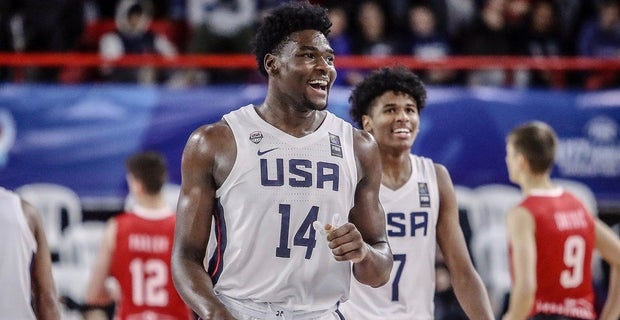 Husky fans have been waiting on pins and needles over the past year as head coach Mike Hopkins and his staff have done everything they could to keep them in the mix for five-star recruit Isaiah Stewart and on Thursday, 247 Director of Basketball Recruiting Evan Daniels notified Dawgman subscribers that he has entered in a Crystal Ball prediction for Stewart to choose Washington.
The Huskies have actually been the school trending for Stewart, going by the Crystal Ball consensus, since the start of the year with eight of the nine predictions since the calendar flipped to 2019 going to Washington and the only anomaly being Syracuse.
Stewart, a 6'9″, 245-pound big man who hails from Indiana, is widely regarded as one of the top players in the country. He's currently ranked sixth overall in the nation and is the third-rated center prospect. He's been hailed as one of the top players in the country for quite some time and he has offers from a "who's who" of Top 25 programs including Duke, Kentucky, Michigan State, Syracuse, Indiana, Villanova, Florida, Georgetown, Ohio State, Oklahoma, Pitt, Purdue, Virginia, Arizona, Oregon, Texas and UCLA among others.
Daniels noted that a commitment decision by Stewart is expected soon, as early as Monday, and he also cautioned that nothing would surprise him in Stewart's recruitment, but he felt confident enough to make his Crystal Ball prediction to the Huskies at this point in time.
Back on January 8th, Stewart told 247's Brian Snow that he wants to make a decision soon.
"I am trying to get it done pretty soon," said Stewart of where his recruitment stands. "I have been talking with my inner circle, so hopefully in the next couple of weeks I can make a decision."
"We just try to map it all out," explained Stewart about the process he uses to make his decision. "I have my coaches with City Rocks (AAU team in New York), my coaches at La Lumiere, and we just map it out, and look at everything we can. Any questions I have they try to help me answer. We try to go over everything about every school."
Washington currently ranks 61st in the nation and 10th in the conference in the 2019 recruiting class.
They have two guards committed to them — Marysville (Wa.) Pilchuck shooting guard RaeQuan Battle and Jefferson (Portland, Or.) point guard Marcus Tsohonis — both of whom fill needs for the Huskies and would be nice compliments to Stewart if he were to wind up committing to the Huskies.
Since his arrival at Washington, Hopkins as well as the rest of his staff, have been dogged recruiters, scouring the country for the best fits into their program, not always the four or five star players.
Stewart apparently checks all of the boxes, both on and off the court and he would immediately give the Huskies a legit shot at a Pac 12 title in 2019/2020.
Here is 247's evaluation of Stewart from his profile…
"A high-motor big man who absolutely dominates around the rim. One of the most productive players in the class of 2019. Could be the best overall rebounder. Offensive game continues to improve. Moves his feet pretty well as a defender, and shows some ability to block shots. However, he isn't going to be someone who scares offensive players from driving into the lane. Projects as a first-round NBA draft choice."
Dawgman.com will continue to keep tabs on Stewart as he gets closer to making a decision and we will have more when new information becomes available.