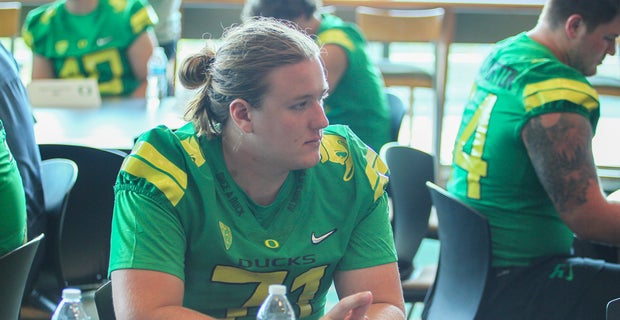 One of Oregon's most trusted reserve offensive linemen has elected to leave the program for more playing time. Jacob Capra, a redshirt sophomore offensive lineman out of Placer High School in Auburn, California has left the team and will not play in the bowl game. 
In a note on twitter, Capra confirmed the news:
First of all, I would like to thank the University of Oregon for an amazing experience these last three years as well as my undergraduate degree. I would also like to thank all coaches that have had an impact on me these last three years as well as all my past and present teammates. After much prayer and consideration with my family, I have decided to continue my education and the last two years of my football eligibility at another university. My recruiting is currently open.
The 6-foot-5, 319-pound lineman played guard and tackle for the Ducks in his three years with the Ducks. In 2018, Capra played in eights games, including a season-high 66 snaps against the Washington Huskies. Capra played in 41 snaps in a road loss at Arizona, 33 in a home game against UCLA, and 26 snaps in another home game against Arizona State. During the non-conference, Capra played 23 snaps against Portland State.
Capra played most of his snaps for the Ducks during the 2018 season at right guard. Capra regularly rotated in for junior right guard Dallas Warmack when Warmack was hurt or needed a breather.
He finishes his career with 14 career games played, including one career start during his redshirt freshman season in 2017.
Capra redshirted during the 2016 football season.
Coming out of high school in the 2016 recruiting class, Capra was ranked as the nation's 28th-best guard in the country, the 577th best player i the country regardless of position, and the 60th best player in the state of California.
Before signing with Oregon, Capra held offers from other Utah, Washington, Washington State, California, and Arizona State.
Jacob Capra's younger brother Joey Capra is currently committed to Ducks as part of the 2019 recruiting class. Joey is a three-star center prospect from Placer high school in Auburn, California.
Jacob Capra will have two years of eligibility after graduating from Oregon in three years.