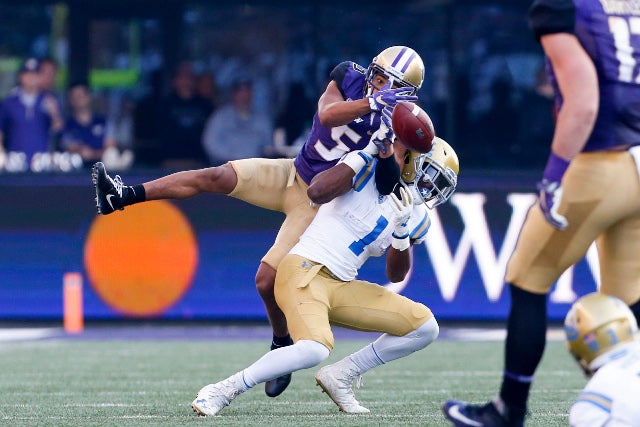 Safety
Brandon McKinney
Cameron Williams
Safety
Isaiah Gilchrist OR
Julius Irvin
CB
Keith Taylor
Dominique Hampton
CB (Nickel)
Myles Bryant
Kyler Gordon
Death Row takes a massive hit in the secondary after the 2018 season. Three players have already either graduated (Jojo McIntosh, Jordan Miller) or have declared for the NFL (Taylor Rapp). We fully expect Byron Murphy to go pro too, leaving Myles Bryant as the only returning starter.
Ouch. But Jimmy Lake doesn't rebuild, he reloads. Yes, the incoming spring group will be very young, but extremely talented.
Losing both starting safeties, UW will rely on Brandon McKinney and Isaiah Gilchrist to step up and step in to fill big shoes. Julius Irvin was sporting a shoulder brace during the Rose Bowl but there's nothing to suggest he shouldn't be ready to go at least a little bit by April.
The interesting name to watch is true frosh Cameron Williams. He's enrolling early with the idea of making an impact right away, and the numbers suggest he'll have every opportunity to do that.
Losing both starting cornerbacks too, Washington is in better shape here going into 2019. Miller and Murphy should be replaced by Keith Taylor and Elijah Molden. They have already played in a combined 53 games, so they are more than ready to take that next step in their development.
Dominique Hampton and Kyler Gordon both got their feet wet as true freshmen last year, and will continue to get bigger, stronger and faster this off-season as they eye this coming spring as their opportunity to make moves. Right now I think Gordon could also impact the nickel position behind Bryant, but Molden could make that job an interesting one to follow – especially if one of the true frosh show they can take over one of the corner spots.
Either way, Molden is one of the top-5 secondary players returning for 2019, so I fully believe he'll start out at corner and then maybe play some spot nickel or dime duty as needed.