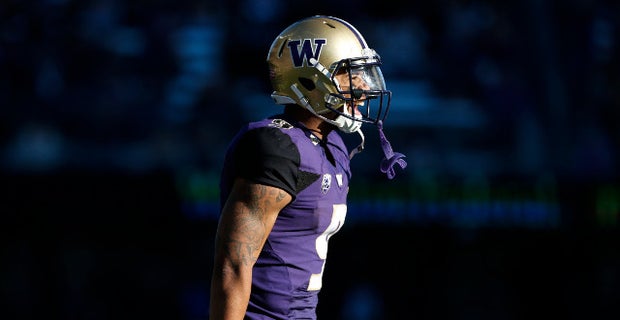 In order to get a better feel for Arizona State's opponent this week we caught up with Dawgman.com editor Chris Fetters, who has closely covered the Washington Huskies for the site for two decades. 
Q: In what ways has Washington played better than what was generally expected and in what areas has it not done as well as expected? 
A: The receivers have played better than expected. The caveat to that is because we really didn't know what to expect. Gone was Dante Pettis and the only returning guy that had played consistently all season last year was Aaron Fuller. He's playing well, but he's been picked up at times by Andre Baccellia, Ty Jones and Quinten Pounds. 
In a bit of an ironic twist, Jake Browning hasn't played as well as expected. He's been picked up at times by the receivers, but his completion percentage through three games has gone down from .744 last year to .591, and his touchdowns have gone down from eight to four. More alarming, he threw five interceptions all last year and has already thrown four in three games this year. On top of the stats, the senior quarterback has been good for at least one play per game that leaves you shaking your head in disbelief, a player with so much experience under his belt just did that. And it will happen Saturday night. All UW can hope for is that it doesn't compound a problem and it's something they can overcome. They were able to do that at Utah. 
Q: How does the team's offensive capability compare to last season after looking at the first three games? 
A: The scoring statistics are going to be very misleading. Last year they had played at Rutgers and at home against Montana and Fresno State. They were averaging 47 points a game. This year they've played Auburn in Atlanta, at home to North Dakota and at Utah. They are averaging a little over 27 points per game. 
In terms of actual offense, they look very identical to last year. Last year they were averaging 130 yards on the ground and 302 yards through the air. This year it's 156 yards on the ground and 296 through the air. They've lost Dante Pettis, Lavon Coleman and Will Dissly to graduation, and Hunter Bryant is out indefinitely rehabbing a leg injury. That's some firepower they won't have with them this year. But the receivers have come good and Myles Gaskin is Myles Gaskin. He's on track to be the first player in conference history to ever run for a thousand yards in four-straight years. Salvon Ahmed is limited, but as long as Gaskin does his thing and Browning sticks to what he does best – managing the offense – they shouldn't look all that different from last year. 
Q: What are the things that teams have done when they've been successful against the Huskies' stingy defense, and how is the unit most vulnerable? 
A: Good question. Nothing immediately jumps out of my head because UW is only giving up 10 points a game. Teams have had some success running the ball, but it hasn't ended up in points and hasn't been consistent. If anything, the Huskies haven't generated a great pass rush without blitzing, so it's probably the most vulnerable when offenses can generate some downfield passing in non-blitzing situations and quarterbacks can sit back and scan without having to move off their spot. I'd also say that, while their linebackers are very solid and MIK Ben Burr-Kirven won Pac-12 Defensive Player of the Week honors for his 11 tackles versus Utah, they can give up some plays in space against running backs. But their team pursuit is so good and such a coaching point for UW that they are rarely without at least a few guys rallying to the ball on every play. 
Q: Who are the key players to this game on offense and defense and why? 
A: Obviously for UW, it starts with Browning on offense. The offensive line is going to have to hold their water and not get lured by ASU's myriad games up front. Their guards are relatively young and can probably get tricked up a few times, but it's going to be up to Browning to change protections and do the veteran things to get them lined up properly. 
On defense it always starts up front. If guys like Greg Gaines and Jaylen Johnson get upfield and disrupt ASU's rush game to the point where the Sun Devils have to become one-dimensional to run the ball, that's good news for UW. It plays right into Washington's strength, their secondary. Taylor Rapp has three sacks so far and seems to be the guy Jimmy Lake is relying on to supplement the Huskies' pass rush. If he can get to Manny Wilkins, it could be a long night for the Sun Devils. If Wilkins can evade UW's blitzes (they won't go crazy in the blitz game, but they'll definitely come), he can take advantage of 1-1 situations, especially with the freakishly talented N'Keal Harry. 
Q: What is your sense of what happened last year between ASU and UW and how does impact preparations or emotions for this game?
A: Well, for some reason the Huskies were off from the start. This has now been widely documented. The coaches and players talked about how weird the vibe was pre-game and then Trey Adams goes down for the year in the first quarter. That was a serious gut punch. Defensively they only gave up 13 points, which should have been totally doable for UW's offense, but Browning could never get going and the ASU front never allowed Washington to get comfortable. And then they missed two field goals inside 25 yards that would have tied the game (at least until ASU's final drive, which I think would have probably ended up in a game-winning field goal anyway). 
As far as that game impacting this year's game, so much has changed for ASU. New head coach, new schemes, some new players. Sure, there's plenty of player carryover from last year, but as far as UW is concerned, it's just the next game on the schedule. There's only one player I think might be on a little different emotional plane, and that's a player that didn't play in last year's game – Byron Murphy. The Scottsdale native didn't get a chance to play in front of friends and family, and he didn't get to square up against one of his best friends, N'Keal Harry. Murphy has already admitted this week is really important to him, maybe even more important than normal. 
Q: What type of game are you expecting and what's your score prediction?
A: Well, my full prediction will come Friday on Dawgman.com, but there are definite keys that should spell the difference in the game. Besides the obvious stuff like turnovers, field position, special teams, run game, stopping the run, etc…, I think how Jake Browning and UW's offensive line handles ASU's exotic fronts and games will tell the story early. If the Sun Devils can get to Browning he's shown an inability this year to make something happen when the pocket breaks down and he ends up going backward. He talked post-game at Utah and this week about needing to just take a sack in those situations and not compound mistakes. That's not in his DNA, he's going to fight that instinct tooth and nail. 
For UW's defense, it's all about imposing their will physically from the start. They did that at Utah and by the fourth quarter the Utes were toast. Utah started all of their drives inside UW's side of the field, including one that started at the UW 11-yard line – and they came up with no points. It was remarkable. I know San Diego State tried to impose their will at the line of scrimmage and by the end of the game the Aztecs were getting some nice chunks on the ground. If Washington's defense can reprise their hard-hitting Utah performance this weekend with more of the same, it's going to put ASU on their heels right away. 
And add to that the fact that teams are 3-17 in the Pac-12 on the back end of back-to-back road games, it's even more important for Washington to take ASU's will away early. The more you let a veteran guy like Manny Wilkins hang around, the more he can step up. And he's got plenty of weapons out wide to help him.