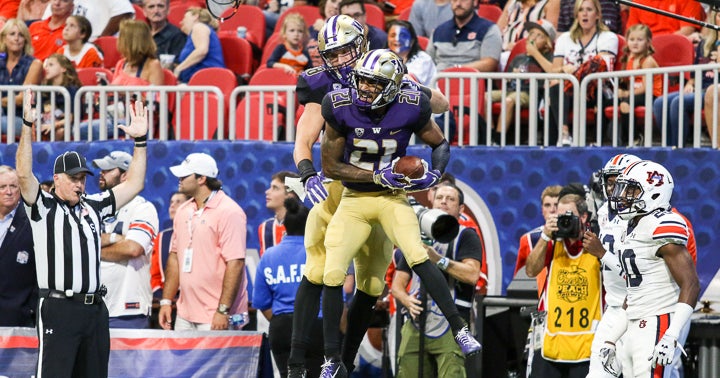 The Washington Huskies played in a back and forth battle to start their season on Saturday afternoon. One receiver mentioned after the game that he felt Washington should have walked away victorious. "Definitely should have had that one. We kind of let that slip away," junior wide receiver Quinten Pounds said following Washington's season opening loss to the Auburn Tigers. The Huskies fell short by five points, getting out-paced 21-16.
"A few mistakes on both sides of the ball," Pounds added. "But that's what the season is about. Cleaning things up and fighting."
Pounds was the only Husky to find the end zone on Saturday, hauling in an incredible one-handed touchdown pass. His catch put the Huskies behind only 15-13 heading into the half. Washington would eventually take a 16-15 lead in the fourth quarter, but were unable to hold on down the stretch.
"I think we responded," Pounds said of Washington's slow start. "On offense we started out kind of struggling. We had a few big plays, but we just kept swinging. Coaches tell us 'keep swinging, keep swinging' and a big play is going to pop. And sure enough we started making some big plays and the offense started going."
The Huskies tallied nearly 400 yards in their loss, but struggled to convert their opporunities into points. Washington found themselves in the red zone during the first two drives in the second half, but were unable to score on either. The Huskies took a brief lead in the fourth quarter, but fell back behind with six minutes remaining. The Huskies marche into enemy territory, but were unable to regain the lead after turning the ball over on downs.
Pounds' touchdown grab near the end of the first half capped a quick, four-play, 75-yard series. Although it momentum in Washington's favor, Pounds knew the Huskies still had a lot of fighting left to do.
"We were still down at that moment, so no one was satisfied," he said. "There was a whole other half to be played, so we just wanted that game."
Though Pounds' 13 yard touchdown reception was the only touchdown of the day for the Huskies, he mentioned some things he wants to work on personally before he finishes his junior season at the University of Washington. "Personally, I would say just being more crisp and being more of a team guy and being the best I can for the team," he said.
Pounds finished the night with his one reception going for a 13 yard touchdown. He was part of a Husky passing offense that tallied nearly 300 yards though the air. At one point in the fourth quarter before the end of Washington's final drive, the Huskies had out-gained Auburn, but ended up 22-yards short of the Tigers' mark.