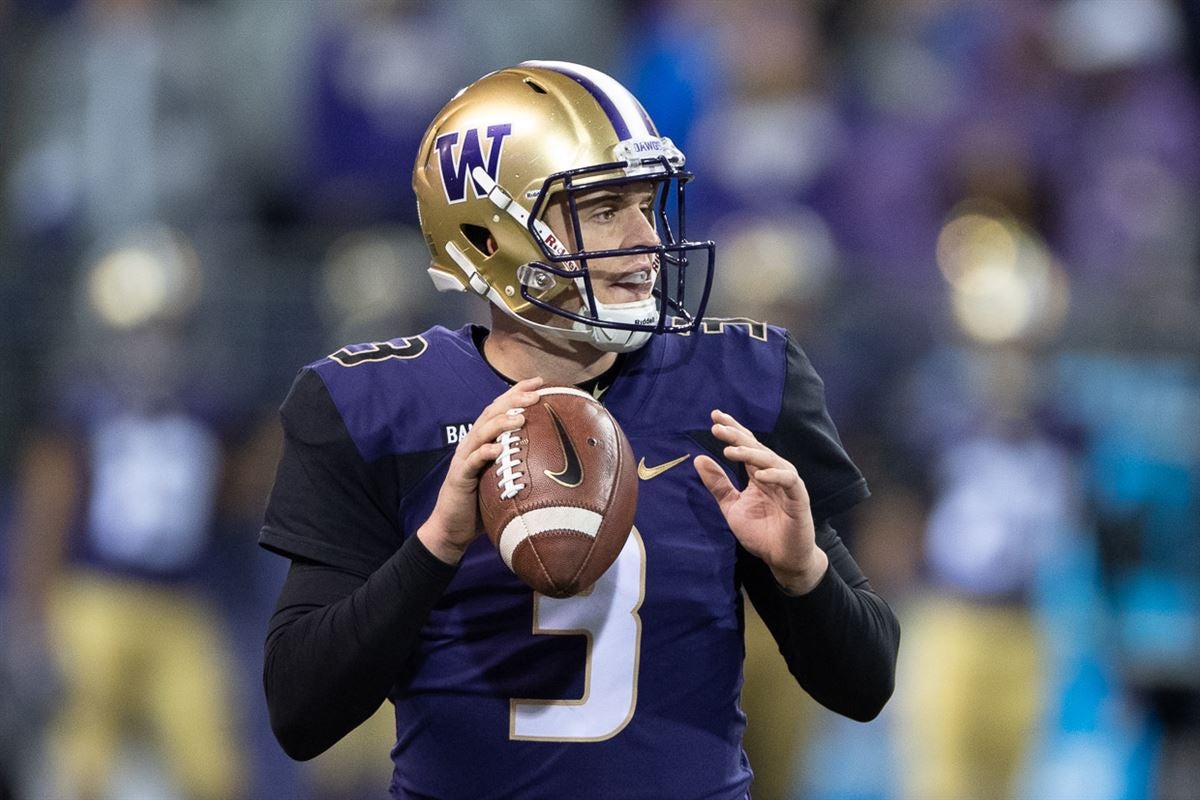 3 QB Jake Browning 6-2 210 Sr. 3V Folsom, Calif. (Folsom)
Records Make To Be Broken By Jake Browning
2017 Academic All-Pac-12 Second Team
2017 Honorable Mention All-Pac-12
2016 Pac-12 Offensive Player of the Year
2016 First-Team All-Pac-12
2016 CoSIDA Academic All-America All-District VIII
2016 Honorable Mention Academic All-Pac-12
2016 Walter Camp Player of the Year Award Finalist
2016 Manning Award Finalist
2016 Maxwell Trophy Semi-Finalist
2016 & 2017 O'Brien Award Semi-Finalist
What else needs to be said about Jake Browning? He's stood in, taken all the slings and arrows, and will come out of all of it the winningest quarterback in UW history by a pretty wide margin. He'll have a boatload of individual and team records that no one will be able to take away, and he did it all while being himself. The iconic Jake Browning moment? Everyone will rightly talk about 'The Point'. It was huge for a whole host of reasons, but it also signaled Browning's personal competitive streak and fire. Despite being from northern California, 'The Point' turned Browning into a Washingtonian for Life. 
Ever hear of the term "Wally Pipped"? Well, Browning, in a round-about way, gave Husky Nation a new verb — "Brett Rypien'd". Rypien, a four-year starter at Boise State, and Browning were the two signal-callers Washington zeroed in on during the 2015 recruiting cycle. Both had similar attributes, were roughly the same size and were relatively close in their ranking (Browning was rated the fifth-best quarterback in the country, Rypien was number 11). Rypien was ready to make his decision, but had promised his parents he would take one last trip to Boise State before he announced his decision (it was well-known that Washington was the heavy favorite). Rypien had publicly set his commitment date for April 1st, but Browning beat him to the punch and committed to Washington on Monday, March 31st.
It's tough to know if Browning did it with the knowledge of Rypien making his decision the next day, but even if it was unintentional, it still wound up being a pretty interesting 24 hours, especially once news made it's way to Rypien.
"Jake Browning is and always has been our quarterback here. There's no one I care for more, have more respect for as a football player and as a person, than him. And I've been coaching a long time." – Chris Petersen