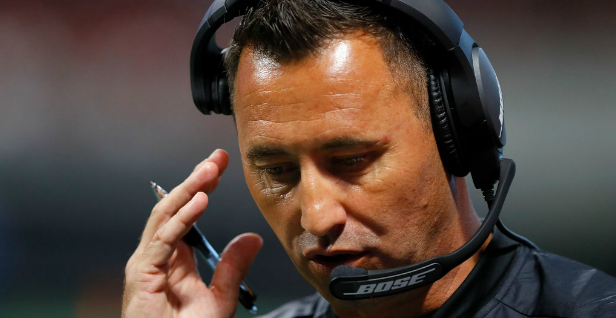 For Kyle Whittingham and Utah football, there's been a vacancy at the offensive coordinator position since the middle of December, when Troy Taylor took the head coaching job at Sacramento State. Since then, rumors have swirled about involving names that could replace Taylor, one of those names was offensive line coach, Jim Harding, which made a lot sense. However speculation exploded after a Pete Thamel report that Utah made a push for Rich Rodriguez to be the offensive coordinator, however he ended up at Ole Miss and Whittingham's search continued. 
Source adds that Rodriguez will get a little under $3 million for the entirely of the deal. Ole Miss held off a late push from Utah, which was also interested in Rodriguez. https://t.co/pD9j5M4TJM


— Pete Thamel (@PeteThamel) December 31, 2018
Since then, former Atlanta Falcon offensive coordinator, Steve Sarkisian has become the hottest name in the coaching search. Accordingly, there's been a healthy debate amongst Utah fans – with most in favor of the potential move – however, there are some valid questions about his fit at Utah. However, there is no question that Sarkisian's resume is awfully impressive, which was a knock on Utah's previous coordinator, who only coached in high school and brief stints in college. For Sarkisian, he possesses years of coaching experience in the college and NFL ranks, calling plays and coaching quarterbacks.  
Sarkisian spent the last two seasons with the Atlanta Falcons where he posted the No. 15 offense in 2017 and the No. 11 offense in 2018.  Under his guidance, the Falcons were one of the top offenses in the league, where they ranked 6th in offensive yards and 10th in points last season, and 8th in yards and 15th in points in 2017.
Prior to his stint in Atlanta, Sarkisian was a Pac-12 head coach at Washington from 2009-2013 and USC 2014-2015, respectively. Before taking over at Washington in 2009, Sarkisian was the replacement for Lane Kiffin as USC's offensive coordinator.  In the 2006 season before Sark took over as play caller, the Trojans averaged 392 yards and 31 points per game. In 2007, Sarkisian's first season with USC, those statistics jumped to 435 yards and 33 points per game. The following year in 2008, those numbers rose even higher to 455 yards and 38 points per contest.
Sarkisian went on to see mixed results as a head coach, but his ability to generate a high-powered college offense didn't wane. In 2009, his first year at Washington after taking over an 0-12 Huskies team, devoid of any talent or direction, he helped the Huskies improve from 263 yards and 13 points per game in 2008 to an impressive 376 yards and 26 points per game. Sarkisian did the same for the USC offense once again after returning as the head coach in 2014. In his only full season as the Trojan's head coach, he would improve the offense from 399 yards and 29 points per game to an impressive 458 yards and 36 points per game. There is little question about his understanding of offense and how to improve the output. 
His scheme's include pro style sets from under center, which Utah added to the playbook this past season and found great success with, but Sarkisian operates primarily out of spread formations and utilize a lot of run-pass options. Those same type option plays were used a lot at Utah over the past two seasons, and with Whittingham's desire to maintain a spread offense with dual-threat quarterbacks, which means the RPO would continue to be a featured aspect of the offense under Sarkisian. His offenses also featured a good amount of downhill man-blocking run schemes like power and counter, which are always welcomed plays for any running back. 
As a recruiter, Sarkisian has found great success as quarterbacks coach and has reeled in a number of impressive players. His early years at USC helped him develop relationships with a lot of the programs in the SoCal area, which allowed him to reap the benefits when he took over the Washington Huskies program. He was primarily responsible for securing some of the top signal callers in their respective classes like the No. 2 ranked Cyler Miles and No. 6 ranked Troy Williams, and quarterback recruiting is where Utah needs to make a jump. 
A lot of the concerns with Sarkisian don't actually come from play calling or recruiting, but off the field issues. His short tenure as USC's head coach is well documented, as he struggled with substance abuse and was let go after just one full season. With all of that being said, since the various alcohol-related incidents that cost him the job at Southern Cal, Sarkisian has received treatment, has kept himself out of trouble the last couple years, and has proven to be in a much better state of mind. 
If Utah does indeed hire Steve Sarkisian as it's offensive coordinator, it should be viewed as a huge step forward as a program. Sarkisian brings a wealth of experience as a quarterback coach and play caller at the highest levels of the sport. The Utah program under Whittingham's guidance has built itself into one of the top programs in the conference, and if the head coach does elect to add Sarkisian to the staff, it could be just what the program needs to cement their status in the Pac-12 Conference.