The Pac-12's playoff hopes had vanished by Oct. 14 last season, when Arizona State upset Washington. Pending the result of the No. 7 Huskies' trip to No. 17 Oregon this week on Oct. 13, the Pac-12 could again be all but out of the playoff picture before the schedule turns to Week 8.
That's how critical this game is to the nation's westernmost conference.
Four years into the College Football Playoff era, the Pac-12, along with the Big 12, is on a different plane than what's emerged as the power group among Power Five teams – the ACC, SEC and Big Ten. The former two conferences have never missed the playoff, and the Big Ten can claim the system's first championship via Ohio State.
But for the Big 12 and Pac-12, securing into the Playoff for its conference champion isn't nearly as automatic.
Despite the occasional realignment crisis, Oklahoma's recent success at the top of the conference and a strong year for the Big 12 overall in 2018 has it currently on more stable ground than the Pac-12. Oklahoma reached the playoff a year ago paced by a Heisman Trophy winner, and the Big 12's revenue share is strong. Currently, the Big 12 can claim a trio of top 11 teams, including a fast-rising Texas. The Pac-12 has just one such team (Washington) as other contenders – Stanford and USC – have quickly fallen off in convincing head-to-head losses against outside powers (namely Texas and Notre Dame). Add in a struggling Pac-12 network and P-5 worst revenue share numbers, and the Pac-12 seems a bit behind the other four P-5 leagues.
Perception matters, and that's why this seemingly regular October meeting between ranked teams feels so consequential to the Pac-12's overall hopes and national standing.
Yes, the winner of this game will still be alive with one loss. But it also needs to be the correct winner.
Who is that? Despite the above statement that doesn't much matter.
Both Oregon and Washington are capable one-loss contenders for the CFB Playoff. Washington's close loss to Auburn in Atlanta isn't going to hurt it in the long run, even if the Tigers are a bit of a disappointment. The same can be said of Oregon's overtime defeat to Stanford in a game where the Ducks needed to only kneel and win.
A winner in this matchup, however, must be able to do one thing above all – keep going.
There's yet to be a two-loss team in the playoff, and that trend is unlikely to be broken by an unusually weak Pac-12. Thus, the onus is on this game's victor to run the table.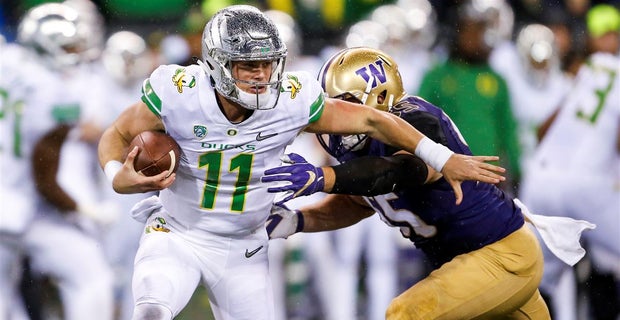 Is one team better equipped to do so than the other? That depends on your view of both programs.
Washington is the proven entity. A playoff team just two years ago, the Huskies have experience dealing with contending pressure. They're also led by a senior quarterback in Jake Browning, who's seen a bit of everything. Add in a defense that's among the nation's elite and the Pac-12's best coach (Chris Petersen), and Washington's formula is that of a contender.
Oregon, for its part, comes with an explosive offense and a Heisman contender in Justin Herbert. A potential Top 10 pick in next year's NFL Draft, Herbert is the Ducks' most talented player since Marcus Mariota. For the first time in years, the Ducks' offense is complemented by a capable defense. Led by Troy Dye, Justin Hollins and Jalen Jelks, Oregon is the nation's 12th ranked rushing defense in terms of yards allowed per carry.
From a schedule standpoint, neither program has it easy.
Washington must still play Colorado, Stanford, California and Washington State – the latter two on the road – before a Pac-12 championship game with someone (who knows in the South). Oregon will travel to Washington State, Arizona and Utah in addition to a game with Arizona State.
ESPN FPI ranks Oregon's schedule as slightly tougher, and it considers the Ducks as an underdog against Washington State and Utah. Washington, meanwhile, is given a 67 percent chance or better in every post-Oregon contest.
There is one other consideration to make in both team's case, however. Who've they've played early.
Washington, due to the quality of Auburn, will be viewed as a tested, quality program if it can roll through the Pac-12 unscathed. Oregon, with a non-conference slate of Bowling Green, Portland State and San Jose State, won't be tested outside of the confines of the Pac-12. For that not to matter, the Ducks must blow their opponents out the rest of the way. Could that happen? Sure. But it's not likely, especially considering what's left on Oregon's slate. And if you put a one-loss Oregon with its non-conference schedule up against someone from the Big Ten, ACC, SEC or even Big 12, the Ducks are likely to be left out.
That's considerably less likely to occur if Washington remains unbeaten. 
The Huskies are the Pac-12's best hope at a playoff contender. If the Pac-12 hopes to avoid being left out again, it needs Washington to play that way Saturday.