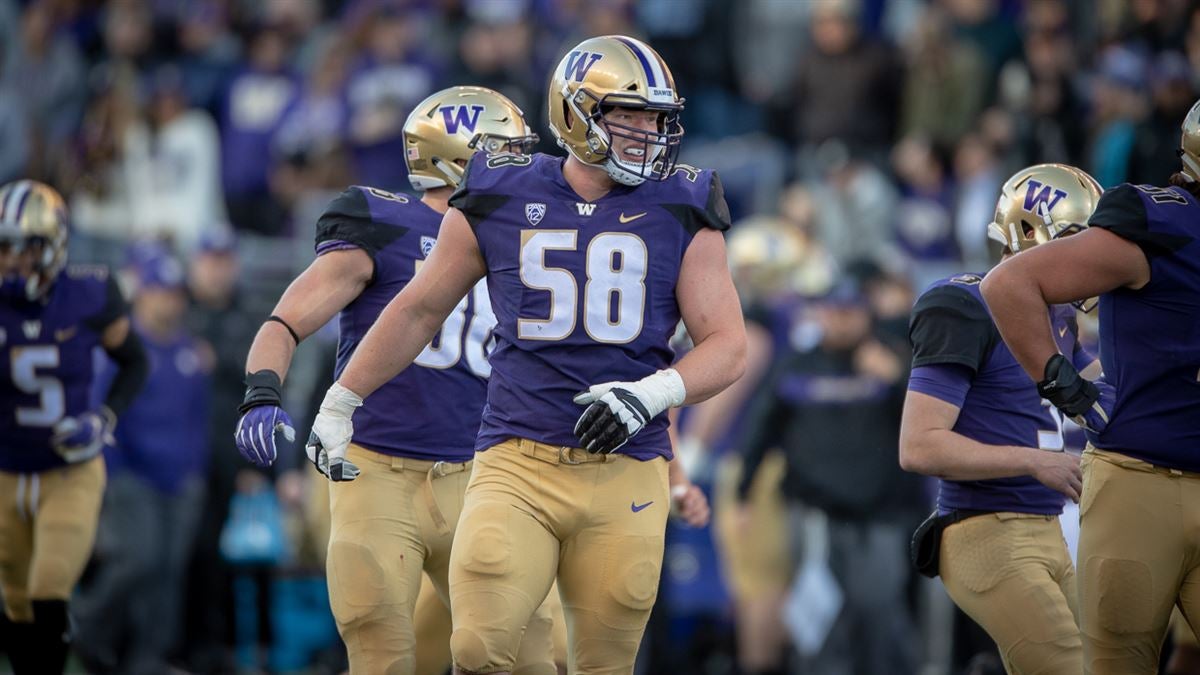 SAN FRANCISCO –– The Pac-12 Conference has announced the 2018 Football All-Conference honors as the South Division picked up a majority of first team honors for offense, while the North Division dominated the list of first team honorees for defense. UTAH punter Mitch Wishnowsky is the only three-time first team selection, while ARIZONA STATE wide receiver N'Keal Harry, WASHINGTON defensive back Taylor Rapp, Utah place kicker Matt Gay and OREGON all-purpose/special teams player Brenden Schooler repeat as first team selections. Three players elevated themselves from last year's second team to first team – Washington DL Greg Gaines, Oregon DL Jalen Jelks and Washington LB Ben Burr-Kirven.
In total, 13 Washington Huskies were named to the All-Pac-12 Teams.
Center Nick Harris, Right Tackle Kaleb McGary, Defensive Lineman Greg Gaines, Linebacker Ben Burr-Kirven, Defensive Back Byron Murphy and Defensive Back Taylor Rapp were named to the All-Pac-12 First Team.
Running Back Myles Gaskin, Defensive Back Myles Bryant, and All Purpose player Elijah Molden were named to the All-Pac-12 Second Team.
Quarterback Jake Browning, Tight End Drew Sample, Defensive Lineman Jaylen Johnson, and Defensive Back Jojo McIntosh were named All-Pac-12 Honorable Mention
Pac-12 Player of the Year honors and Coach of the Year will be unveiled Tuesday evening by the Pac-12 Networks on Inside Pac-12 Football that airs at 5 p.m. PT/6 p.m. MT.
2018 ALL-PAC-12 CONFERENCE FOOTBALL TEAM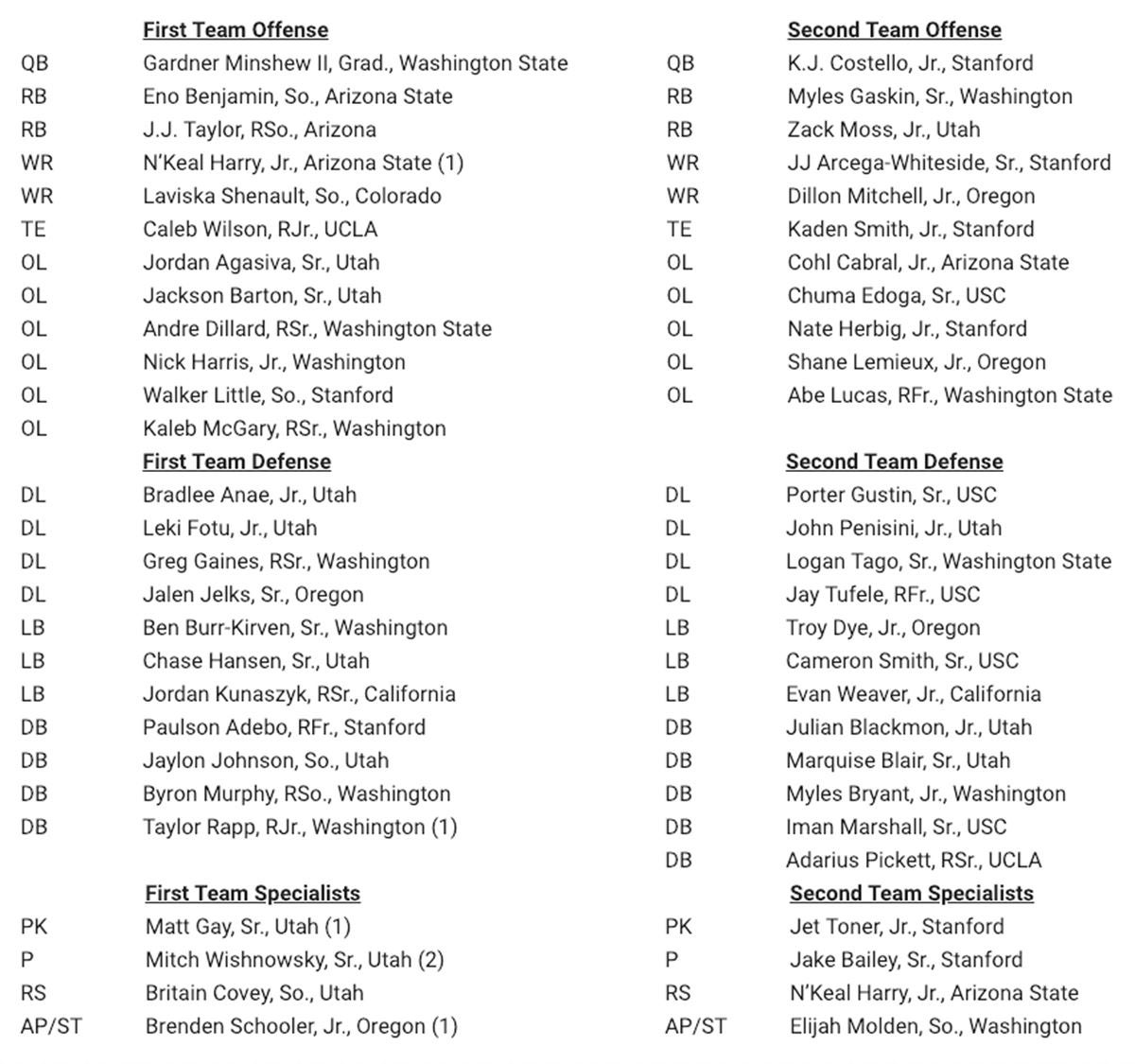 RS=return specialist
AP/ST=all-purpose/special teams player (not a kicker or returner)
(1) Two-time first team selection
(2) Three-time first team selection
No Tiebreaker: There was a tie for the fifth offensive lineman for first team, so that team is represented with six offensive linemen. There also was a tie for the fourth defensive back for second team, so that team is represented with five defensive backs.
ALL-PAC-12 HONORABLE MENTION
ARIZONA: DL PJ Johnson, RJr.; WR Shawn Poindexter, Sr.; Thomas Reid III, WR, RSo.; LB Colin Schooler, So.;
ARIZONA STATE: OL Quinn Bailey, RSr.; DB Aashari Crosswell, Fr.; OL Casey Tucker, Grad.; DL Renell Wren, RSr.;
CALIFORNIA: DE Luc Bequette, RJr.; DB Camryn Bynum, RSo.; P Steven Coutts, RJr.; RS Ashtyn Davis, RJr.;
COLORADO: LB Rick Gamboa, Sr.; DL Mustafa Johnson, So.; LB Nate Landman, So.; RB Travon McMillian, Sr.; OL Will Sherman, Fr.; DB Evan Worthington, Sr.;
OREGON: DB Ugochukwu Amadi, Sr.; OL Jake Hanson, Jr.; OLB Justin Hollins, Sr.; DL Jordon Scott, So.; OL Penei Sewell, Fr.; OL Calvin Throckmorton, Jr.;
OREGON STATE: AP/ST Andre Bodden, RJr.; WR Trevon Bradford, Jr.; WR Isaiah Hodgins, So.; RB Jermar Jefferson, Fr.;
STANFORD: DB Alijah Holder, RSr.; RB Bryce Love, Sr.; LB Bobby Okereke, Sr.; TE Colby Parkinson, So..; DL Jovon Swann, Jr.;
UCLA: P Stefan Flintoft, RSr.; DB Darnay Holmes, So.; WR Theo Howard, Jr.; RB Joshua Kelley, RJr.; PK JJ Molson, Jr.;
USC: DB Ajene Harris, Sr.; OL Toa Lobendahn, RSr.; WR Michael Pittman Jr., Jr.; DB Marvell Tell III, Sr.; Fr.; RS Tyler Vaughns, RSo.;
UTAH: DB Corrion Ballard, Sr.; LB Cody Barton, Sr.; OL Lo Falemaka, Sr.; DB Javelin Guidry, So.;
WASHINGTON: QB Jake Browning, Sr.; DL Jaylen Johnson, Sr.; DB Jojo McIntosh, Sr.; TE Drew Sample, RSr.;
WASHINGTON STATE: P Oscar Draguicevich, RSo.; RS Travell Harris, RFr.; OL Frederick Mauigoa, Jr.; LB Peyton Pelluer, Grad.; DB Jalen Thompson, Jr.; RB James Williams, RJr.; AP/ST Kainoa Wilson, RJr.; LB Jahad Woods, RSo
.