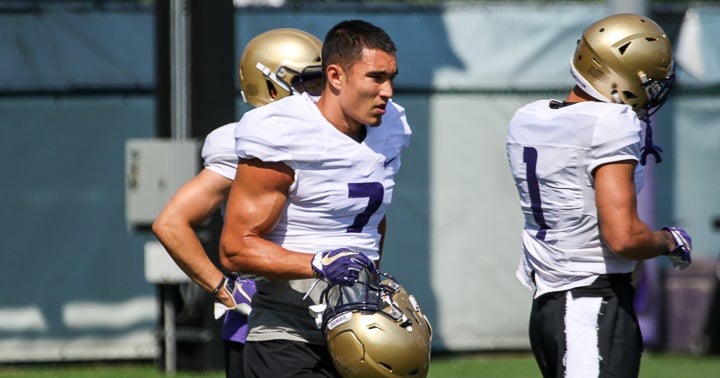 On Tuesday, three Washington Huskies were named to the Associated Press Preseason All-America Teams: Myles Gaskin, Taylor Rapp and Byron Murphy.
Gaskin, a senior running back from Seattle, was named the AP First-Team All-Purpose player. Rapp, a junior from Bellingham, Wash. was named a First Team safety, and Murphy, a sophomore from Scottsdale, Ariz., was named a Second Team cornerback. 
Rapp was also named a First Team Preseason All-American by ESPN on Monday. 
Gaskin, with a thousand-yard rushing season this fall, would become the first player in Pac-12 history to run for four-straight 1000+ yard seasons. He already holds the career Washington touchdown record for a running back. 
Rapp was named the 2016 Pac-12 Championship Game MVP, the conference's freshman defensive Player of the Year and a Freshman All-American. Last year he was named to the All-Pac-12 First Team.
Murphy only played in six games in 2017 – the first three and the last three – but had two interceptions in his very first start at Rutgers and one against Penn State in the Fiesta Bowl.  
The AP mention is just more of the same for the trio, as they've been receiving a ton of preseason acclaim. Phil Steele named Gaskin and Rapp Second Team All-Americans, while Athlon named all three to their All-American First Team. Lindy's named Rapp to their First Team and Murphy to their Second Team.