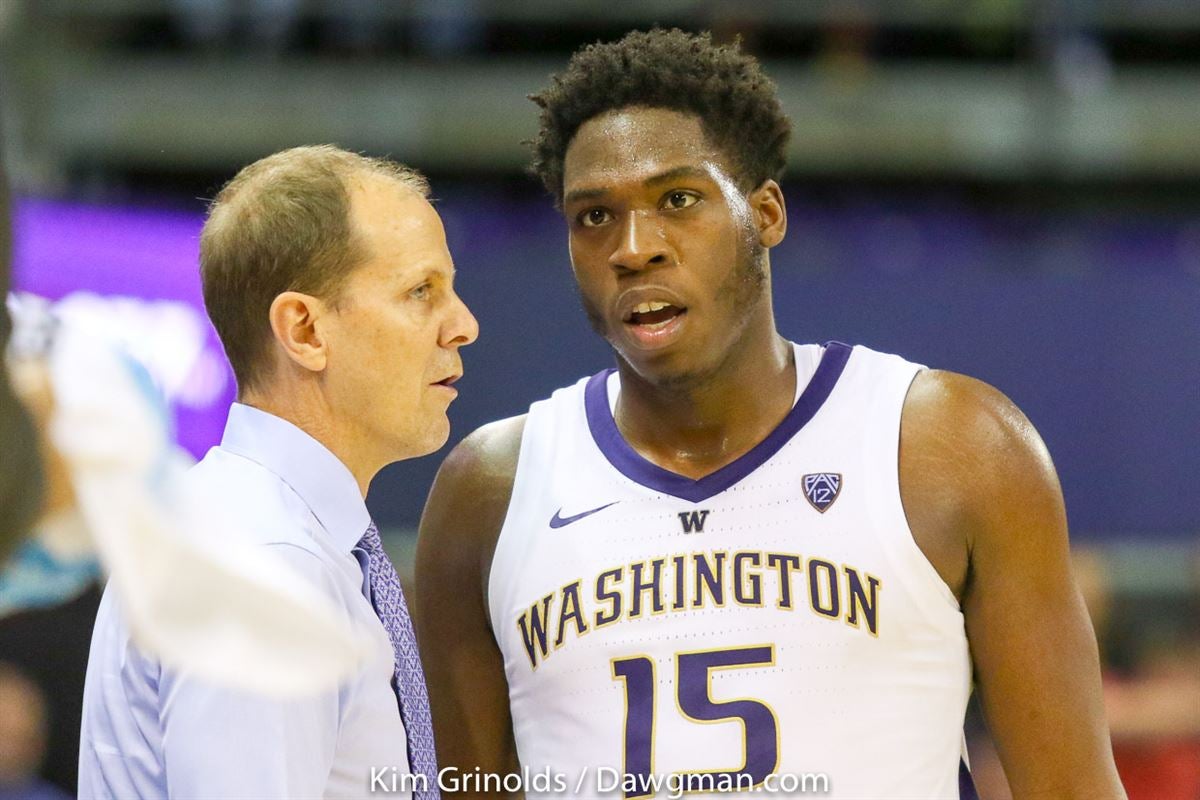 It wasn't pretty, but it was job done Sunday night for Washington Basketball. Ten of their final 12 points came via the free throw line, as the Huskies took care of the UC Santa Barbara Gauchos 67-63 Sunday night at Alaska Airlines Arena.
"I said this earlier and it's just the truth: an ugly win is better than a good-looking loss," Washington Head Coach Mike Hopkins said after the game. "Am I happy with how we played? No. Am I happy that we won? Yes. And now we've got an unbelievable opportunity."
The Huskies travel to Spokane Wednesday night to take on the No. 1 Gonzaga Bulldogs. They are 29-17 all-time versus Gonzaga, but have only beaten them once in the last twelve meetings. They've only beaten a No. 1-ranked team twice in school history: UCLA in 1979 and Stanford in 2004.
Noah Dickerson led all scorers with 22 points, adding eight rebounds. Ten of the senior forward's points came via the foul line. Jaylen Nowell chipped in 17 points, five assists and four rebounds for the Huskies (6-2), while Matisse Thybulle added 13 points, six steals and two assists before fouling out with 4:14 to play and the Huskies up three.
Ar'Mond Davis made three three-pointers in the second half, part of his team-high 20 points for the Gauchos (6-2). Devearl Ramsey scored 12 as the only other Santa Barbara player in double-figures. Former Washington commit and Oregon State transfer Jaquori McLaughlin added eight points and five assists.
The game started out well enough for the Huskies, who built up a 10-0 lead, but none of them came on jumpers. When they started trying their touch from outside, there was no joy. They only hit one jumper all half and finished the first 20 minutes 0-9 from three-point range. That allowed Santa Barbara to stay in the game despite only scoring 21 points against a very good effort by UW and their zone.
"It was almost like there was some cross-breeze or someone put a lid on the rim," Thybulle said. "These are shots we've made millions of times. Every basketball player wants to make shots. When it doesn't go in it hurts, but knowing we can go through those droughts and our defense can keep us in the game is what really gives us confidence. We were able to keep them from scoring, so the game didn't get out of hand."
Washington scored 16 points the final 15:49 of the first half.
"Dom missed a good amount of threes today, but they're all open," added Dickerson. "I'm not mad that he shot that shot, even if he missed it. All good shooters, if they're open – shoot it. For the most part no one knows we're in a scoring drought until someone calls a time out and they tell us, because they're open shots. They're going to start falling eventually."
It took until 17:41 left in the game before UW scored their first three-pointer through Nowell, but it was the back-to-back threes by Thybulle – the second coming with 10:51 to play to give Washington a five-point lead and the crowd was finally behind them.
"Defense jump-starts our offense," Dickerson said, matter-of-factly.
"For the most part our defense was good in the first half," added Hopkins. "We held them 1-7 from the three-point line. Whenever you're playing a good mid-major team, the three-point line becomes a factor. In the second half they made seven, so now they're a factor. We didn't do a good job there. We broke down a couple of times defensively. Sometimes bad offense results in bad defense. You're thinking about that play and we've got to be able to move forward to the next one."
And Dickerson definitely had his moments. A layin and-1 with 10:15 to play in the game gave Washington a 7-point lead, but the lid popped back on and the Gauchos scored seven-straight to tie it and then took their second – and last – lead of the game via a Davis three.
When the Gauchos realized UW just wasn't going to get hot from outside, they packed it in and doubled Dickerson when he received the ball. But they couldn't stop from fouling, and the Huskies found themselves in the bonus with 7:58 to play.
"I have to give Santa Barbara a lot of credit," Hopkins said. "Coach (Joe) Pasternack, he did a great job, they made it very difficult to get to Noah. He had 22 and 8, went to the foul line and they made it very difficult to get him the ball. They were taking 25 seconds off the clock, which is a good strategy against us, make us play defense for long periods of time.
"It got into a dawg fight. In the end of the game we did a good job of…sometimes your best offense is really good defense. We got into transition early in the second half, Matisse hits a couple threes, Jaylen made some plays."
Thybulle's last points of the game, a three with 6:54 remaining, put the Huskies back in control for a while, but Davis, a former Alabama player who prepped at Foss High School in Tacoma before going to the College of Southern Idaho, kept bringing the Gauchos back. He scored five-straight points to tie the game at 57.
Santa Barbara tied the game one last time at 60 with 1:35 after a made Jay Nagle free throw, but then Nowell came up big with a fadeaway jumper from the right baseline with 73 seconds to play. He was fouled by McLaughlin, but couldn't make the and-1.
The Gauchos couldn't convert deep inside, as sophomore forward Hameir Wright bodied up Amadou Sow and wouldn't let him get a clean look.
Nowell was fouled with 7 seconds left and made both his free throws to give UW a four-point lead. Davis tried to get a three-point shot off, but it wasn't a clean look and Dickerson came up with the rebound to end the game.
"This isn't a bad team," Thybulle said of Santa Barbara. "They are 6-1 for a reason. This wasn't a game we could overlook by any means. We spent every day leading up to this game focusing solely on them. That's when you slip up and get losses you regret down the season."
"At the end of the day it's about winning," added Hopkins. "But you're trying to play the right way for longer periods of time, but it's about winning. It's not going to be pretty some of the time, but you've got to find ways to win. We made just enough plays to win tonight."
And now they have an amazing opportunity to make some history in less than 72 hours.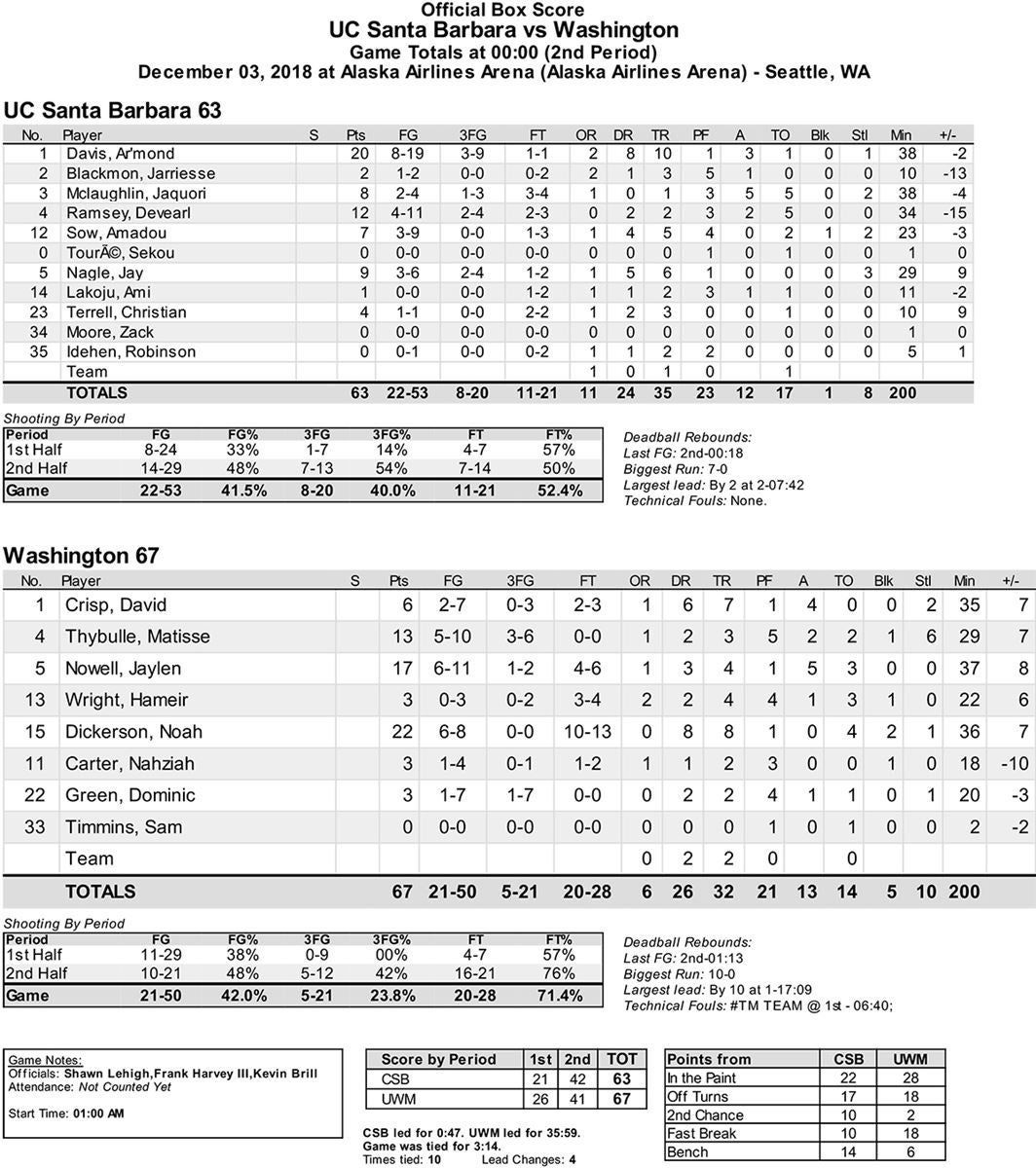 Matisse Thybulle and Noah Dickerson