UW returns to Alaska Airlines Arena to face Eastern Washington on Tuesday, Nov. 27 at 6 p.m. The game will be televised on the Pac-12 Networks with J.B. Long and Don MacLean on the cal. Additionally, fans can listen to Tony Castricone and Jason Hamilton on the Official Husky Radio Broadcast on 1000AM KOMO/97.7 FM. The Huskies have faced Eastern Washington 15 times in program history and own a 14-1 record in those meetings. The two programs last met a year ago with UW taking a 79-69 victory in Seattle (Nov. 12, 2017).
Quick Hitters
• Over the three Vancouver Showcase games, senior Noah Dickerson nearly averaged a 20/10 double double as he averaged 21.0 points and 9.7 rebounds while shooting 51.4 percent from the field … additionally sophomore Jaylen Nowell averaged 22.7 points on 61.5 percent shooting.
• Dickerson posted back-to-back 20 point outings against Texas A&M (24) and Minnesota (28) … it is the third time in the senior's career that he has had back-to-back 20 point games.
• Dickerson posted his sixth career 20/10 double-double against Texas A&M leading the team with 24 points and 17 rebounds … his 11 offensive rebounds were a career high and most by a Husky since Jon Brockman had 12 on Jan. 8, 2009 against Stanford.
• Senior David Crisp moved to 1,120 career points passing assistant coach Will Conroy for 31st all time at UW, Conroy posted 1,113 points his career (2001-05).
• Senior Matisse Thybulle is averaging 2.6 blocks over the first six games … that's up from 1.4 as a junior, 0.7 as a sophomore and 0.9 as a freshman … his career total of 119 blocks is fifth all-time at UW.
• Thybulle is the only player in Division I averaging at least 2.6 blocks and 2.3 steals per game.
• Joining Thybulle in the block party is sophomore Hameir Wright who already has 14 this year in six outings … as a freshman Wright knocked away 36 blocks in 33 games.
• Following his 32 points against Santa Clara, Nowell became the fastest player in UW history to reach 600 career points … he now has 664 points in just 39 games played … NBA All-Star Isaiah Thomas was next, as he reached 600 in 39 games.
• Nowell once again leads the Huskies in scoring as he has not scored below 14 points in a game this season … he's averaging 19.8 ppg over the first six outings after leading the team with 16.0 ppg a year ago … both him and Noah Dickerson have yet to score below 10 points this season.
• Sophomore Naz Carter has been providing a spark off the bench for the Huskies as he is averaging 8.3 points in 19.5 minutes per game.
• Matisse Thybulle is the first player in Pac-12 history since 1992-93 with the career stat line of at least 100 blocks (119), 200 assists (208), 200 steals (219) and 300 rebounds (322), viaSportsReference.
• Thybulle, UW's career steals leader at 219, has now recorded at least one steal in 52-straight games.
• Nowell has shot over 50 percent from the field in 18 of his 40 career games (45.0 percent) … Nowell is 44-of-74 (59.5%) this season and for his career is at 47.1% (247-of-524).
• UW has two 1,000 point scorers on the team with the potential to add a third as Matisse Thybulle is 54 points away. Only two rosters in UW history have had three 1,000 point scorers at the same time, 2008-09 (NCAA Round of 32) and 1998-99 (NCAA Round of 64). Dickerson currently has 1,274 career points which ranks 26th while Crisp has 1,120 career points which ranks31st.
• Three Huskies are in the 100 games club now as seniors Thybulle and Crisp are at 105 career games while Dickerson is at 104 … additionally Thybulle has started in all 104 career games while Dominic Green is just two games away at 98.
• Dickerson is 243 rebounds away from becoming only the 15th member of the Pac-12's 1,000 career rebounds club. Dickerson, who has 757 boards in his career, grabbed 284 boards as a junior in 2017-18.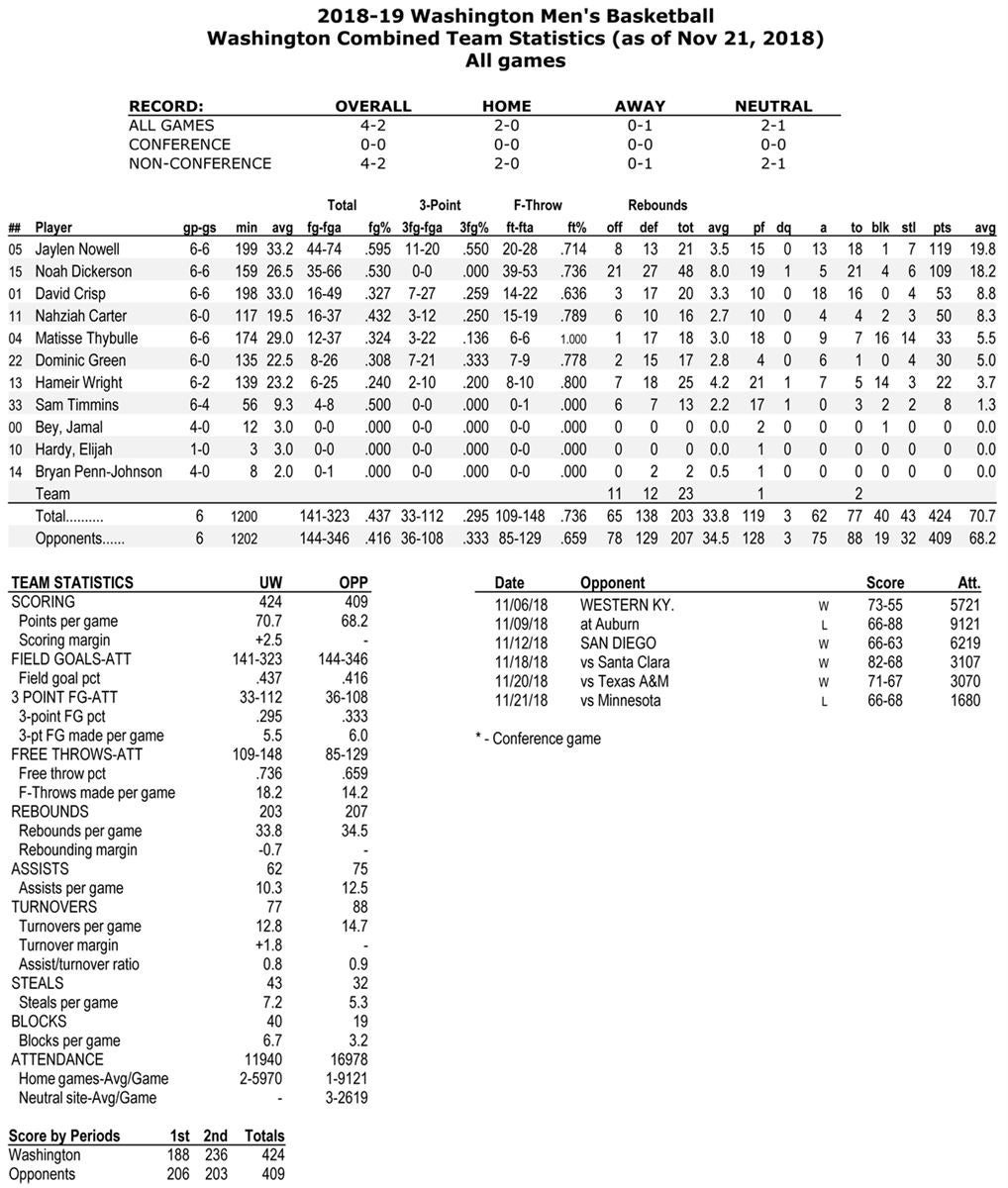 Eastern Washington Game/Season Notes
Jesse Hunt All-Tournament With Pair of Double-Doubles
Senior Jesse Hunt has had double-doubles in both games, but he saved his best for last in EWU's most recent outing as he earned All-Tournament honors at the Cheney Sub-Regional of the 2K Empire Classic Benefiting the Wounded Warrior Project.
He scored 15 of EWU's 22 points down the stretch en route to his second-straight double-double and give the Eagles an 87-80 victory over the University of Missouri Kansas City on Nov. 17 at Reese Court in Cheney, Wash. It was Hunt's fourth double-double of his career, and he doubled his previous career high of 16 and achieved a new career high with 12 rebounds. Hunt hit a 3-pointer to send the game into overtime and his efforts also included two other baskets in the final 2:02 of regulation to provide most of EWU's offense down the stretch. He then scored eight of EWU's 18 points in overtime. He sank 12-of-16 shots from the field with a trio of 3-pointers, and also had four assists.
"Jesse was there and knocked down the shot," said Eastern head coach Shantay Legans on his team getting to overtime. "Our guys spaced the floor and Jesse came up big. Jesse had a great game. For he and Ty (Gibson) to get 20 rebounds between them was huge."
One game earlier in a semifinal loss to Green Bay, Hunt finished with 15 points and 10 rebounds, plus had three assists and a pair of blocked shots. In the two games, he averaged 23.5 points, 11.0 rebounds, 3.5 assists and 1.0 blocked shots per game, while making 65.5 percent of his shots overall (19-of-29), 4-of-6 from the 3-point stripe and 5-of-9 free throws.
Through four games as a starter this season for the 1-3 Eagles, he's averaging 14.8 points, 9.3 rebounds, 2.0 assists and 1.3 blocks per game while making 56.1 percent from the floor, 61.5 percent from the 3-point arc and 50.0 percent from the line. He's played in 87 career games with 21 starts, and has averages of 4.1 points and 3.1 rebounds. He nearly had a double-double at Oregon on Nov. 9 when he finished with nine points and eight rebounds.
A foot injury limited Hunt to just 20 games and five starts in the 2017-18 season, including just four brief appearances in EWU's last 19 games of the season. For the season, Hunt averaged 18.3 minutes, 7.5 points, 5.6 rebounds and had nine blocked shots, while making 49.5 percent of his shots from the field and 80.6 percent from the free throw line.
Before initially injuring the foot on Jan. 5, 2018, in a practice, Hunt had started the last five games he played, helping lead the Eagles to four victories and averaging 14.6 points, 7.8 rebounds and 1.0 blocks per game. He made 25-of-43 shots overall (58.1 percent), 7-of-11 from the 3-point stripe (63.6 percent) and 16-of-20 from the free throw line (80.0 percent) in those five games, and had registered his career high for scoring in the first four games.
Playing for the first time in more than a month, Hunt logged six minutes against Montana on Feb. 15, 2018, in his first action in 10 games before aggravating a foot injury in that game. He returned for the Big Sky Conference Tournament and had a total of four points and five rebounds in EWU's first two games. But he once again aggravated the injury in the title game, also versus Montana, and missed EWU's College Basketball Invitational game versus Utah Valley.
Five Eagles Made Eagle Debuts Versus Syracuse
Four Eagles, including starting redshirt freshman Kim Aiken Jr., made their collegiate debuts when Eastern played at Syracuse on Nov. 6. For Aiken, it was the first start of his career in his Eagle debut, finishing with five points.
Coming off the bench for EWU were redshirt freshman Tanner Groves and true freshmen Elijah Jackson and Austin Fadal. All three scored their first points and had their first rebounds of their careers as Eagles, as did junior college transfer Tyler Kidd. A redshirt last season after transferring from Skagit Valley Community College, Kidd made 3-of-8 shots from the field – including 3-of-5 3-pointers – to finish with a team-high nine points. He also had a pair of rebounds, an assist and a steal. Against Oregon one game later, Groves and Jackson both made their first 3-pointers as Eagles.
Besides Aiken, the rest of EWU's starting lineup against Syracuse included seniors Ty Gibson and Jesse Hunt, as well as sophomores Luka Vulikic and Jack Perry. Eastern played without three players – Mason Peatling, Jacob Davison and Steven Beo – plus Gibson played just eight minutes after suffering an injury in the first half. Gibson did not play versus Oregon and was replaced in the lineup by Cody Benzel, who finished with a team-high 16 points.
Aiken averaged 25.3 points and 11.5 rebounds as a high school senior in the 2016-17 season, and scored 1,730 points (18.4 per game) and had 1,038 rebounds (11.0) in his career. Groves earned All-State honors while at nearby Shadle Park High School in Spokane, Wash., and averaged 18.2 points, 9.5 rebounds, 1.9 assists and 1.8 blocked shots as a senior. Kidd earned all-defensive honors in the Northwest Athletic Conference and averaged 14.1 points as a sophomore at Skagit Valley Community College.
Jackson is out of Chief Sealth High School in Seattle, earning All-Metro League honors as a senior, then winning the long jump and triple jump at the 2018 State 3A Championships. He had high school bests of 23-6 in the long jump, 46-4 3/4 in the triple jump and 6-6 in the high jump. Those marks would have all placed in the top 12 at the Big Sky Conference Championships in 2018.
Fadal averaged over 18 points and six assists in his high school career, but a knee injury in December of his senior season ended his high school career. He then played one season at Hillcrest Prep in Arizona where he was one of the eight finalists nationwide for the National Prep Hoops Offensive Post-Graduate/Prep School Player of the Year.
Eastern Picked Fourth in Big Sky Preseason Polls
Montana is the consensus favorite, but the Grizzlies are just one of several league championship contenders Eastern will face in the 2018-19 season. The Eagles were picked to finish fourth behind defending champion Montana, Weber State and Northern Colorado in the Big Sky Conference preseason polls announced on Oct. 18 by the league office.
Eastern received 261 votes in the media poll to trail Northern Colorado by 19, and were 67 tallies ahead of Montana State. The coaches had Eastern seven points behind UNC and eight points ahead of No. 5 Portland State.
"The Big Sky will be good again – it's really talented from top to bottom," said second-year EWU coach Shantay Legans. "So it's going to be a fight for us."
Montana was a unanimous choice to repeat as champs, receiving 33 of 35 first-place votes in the media poll and all but one of the votes cast by the coaches. Picking up the other first-place votes and ranking second in both polls was perennial Big Sky power Weber State.
"Montana is the favorite because they have most of their players back," said Legans. "And Weber State is also bringing back some guys and has some good, young players coming in. Northern Colorado should be right at the top again, and Montana State has Tyler Hall so they'll be a challenge."
League play begins Dec. 29, but Big Sky foes won't be the other league favorites the Eagles will face. In their respective preseason polls in their leagues, Oregon (Pac-12) and South Dakota State (The Summit League) have been picked to win titles. Syracuse (Atlantic Coast Conference) under veteran head coach Jim Boeheim will be among the favorites after its run to the NCAA Tournament "Sweet 16" a year ago.
"With our schedule we'll be able to see how we stack up against teams picked to win their conference," said Legans, whose team will play seven of its 11 preseason games on the road. "That's how we like it."
One of EWU's home games will be against South Dakota State on Dec. 18, and the Jackrabbits feature one of the best players in NCAA Division I basketball in Mike Daum. The 6-foot-9 senior forward averaged 23.9 points and 10.3 rebounds a year ago."
"They say he is one of the top 20 players in the country, and it will be a lot of fun to play them at home," Legans added. "They are maybe one of the top five mid-major programs in the country and are very talented."
Big Sky Conference Preseason Rankings
Media Poll (Rank – Team – Points): 1. Montana – 383 (33); 2. Weber State – 346 (2); 3. Northern Colorado – 280; 4. Eastern Washington – 261; 5. Montana State – 194; 6. Idaho – 192; 7. Portland State – 189; 8. Idaho State – 176; 9. Southern Utah – 128; 10. Sacramento State – 115; 11. Northern Arizona – 46. First place votes in parenthesis
Coaches Poll (Rank – Team – Points): 1. Montana – 100 (10); 2. Weber State – 90 (1); 3. Northern Colorado – 70; 4. Eastern Washington – 63; 5. Portland State – 55; t6. Montana State – 53; t6. Southern Utah – 53; 8. Idaho State – 50; 9. Idaho – 34; 10. Sacramento State – 27; 11. Northern Arizona – 10. First place votes in parenthesis
Preseason Schedule Includes Teams from Seven Different Conferences
It will be another year of challenge, as Eastern will play 11 non-conference games – four at home and seven on the road – prior to the start of Big Sky Conference play on Dec. 29.
In all, Eastern's non-conference schedule will include teams from seven different conferences – ACC, Pac-12, Horizon, Ohio Valley, Western Athletic, Summit and the West Coast. The 11 non-conference opponents EWU will play or could potentially play combined for a 202-170 overall record last season, and were 90-92 in their respective leagues.
Along with Syracuse, South Dakota State also advanced to the NCAA Tournament and finished 28-7 after winning the Summit League title with a 13-1 record. Washington, Stanford and Oregon all played in the National Invitation Tournament (NIT), winning first-round games before bowing out in the second round.
Seattle and San Francisco joined EWU in the 2018 CBI. Both Eastern and the Redhawks – coached by former Eagle head coach Jim Hayford – fell in the first round. But the Dons advanced all the way to the championship series versus North Texas where USF won 72-62 in the opener but lost 69-55 and 88-77 in the next two games.
In all, 10 of EWU's 21 NCAA Division opponents appeared in postseason NCAA Division I Tournaments. Montana represented the Big Sky in the NCAA Tournament, while Portland State and Northern Colorado both played in the CollegeInsider.com Tournament (CIT).
League Schedule Features 20 Games for the Third Time in League History
As expected, the 2018-19 schedule of games in the Big Sky Conference for the Eagles will have a few twists and turns. It includes 20 league games for the first time since the 2013-14 and 2012-13 seasons. Those were the only years in the league's 55-year history the schedule has included 20 conference games.
The departure of North Dakota left the league with 11 members, making for a challenge in scheduling 20 games for each team in a span of 11 weekends. Travel partners – such as Idaho paired with EWU – were retained as much as possible, but the "lone wolf" is always prevalent when scheduling an odd amount of teams.
Most notably, Eastern will play four games on Monday, including three at home at Reese Court in Cheney, Wash. The Eagles will also host Montana and Montana State in back-to-back games, but those will come nine days apart.
However, the good news for the Eagles is that their road travel schedule is as good as could be expected. The lone Monday road game is at Northern Colorado — four days after the Eagles play at nearby local rival Idaho.
"Scheduling 11 teams in a 20-game schedule is definitely a difficult task," said Eastern head coach Shantay Legans. "But we are pleased with how it came out for us. It's definitely different playing on Mondays, but we'll embrace the challenges and fight to win the league title."
UW/EWU Series Notes
* Eastern is 1-14 all-time versus the Huskies, with near-upsets the last time the two teams have met. Eastern fell 79-69 last season for its 10th-straight loss to the Huskies, after having not played them since Dec. 14, 2014, when Eastern lost to Washington by an 81-77 score.
* In last year's game, Eastern's defensive effort was good enough to win, but 11 missed free throws and 40 percent shooting by the Eagles helped Washington survive for a 79-69 victory over EWU Nov. 12 at Alaska Airlines Arena in Seattle. Eastern began a monstrous 10-game road trip with a promising defensive effort, holding Washington to 41 percent shooting. The first half featured 11 lead changes and seven ties, but Washington pulled ahead late in the first half and held-off EWU in the second half. Eastern used a 9-3 run – including a pair of baskets by Luka Vulikic – to take its biggest lead of the game with 6:12 left in the first half. But Washington followed with a 16-4 run to take the lead for good, and then hit a 3-pointer at the buzzer to lead 40-34 at halftime. The Eagles closed the margin to four on a 3-pointer by Ty Gibson with 9:54 to play, but Washington went on a 10-3 run and led by double digits much of the remainder of the half. The Huskies didn't score for a more than five-minute stretch in the second half, but the Eagles couldn't capitalize. Washington missed five-straight field goals in that stretch, but the Eagles missed four shots of their own and didn't make a field goal for 5:06. Bogdan Bliznyuk scored 20 points to lead the Eagles, making 6-of-11 shots from the field and 6-of-7 free throws, and also had eight rebounds and three assists. Vulikic had his second-straight game scoring in double figures, finishing with 10. Gibson made three of EWU's eight 3-pointers and finished with nine points.
* In EWU's 2014 game against Washington, the Eagles nearly pulled off the upset, with Tyler Harvey, Drew Brandon and Venky Jois combining for 50 of EWU's points. The Eagles led for 34:50 of the game before the No. 17 Huskies rallied down the stretch.
* Since Eastern moved to NCAA Division I in the 1983-84 season, EWU is now 3-43 against the Pac-12 Conference, having gone 1-2 versus the league in the 2017-18 season and 0-1 this year thus far. Eastern snapped its 21-game losing streak versus the Pac-12 with a 67-61 victory at Stanford on Nov. 14, 2017. Entering this year, the only current member of the Pac-12 Eastern has never played is Arizona State. A year ago, Eastern fell to Washington 79-69 on Nov. 12, 2017 and Utah 85-69 on Nov. 24, 2017. Coupled with an 11-55 record versus Washington State, 1-14 mark versus Washington and a 1-16 record against other current members of the Pac-12, the Eagles have a 13-85 record all-time against that league.
* Eastern's 62-58 win at Washington in the 2002-03 season on Dec. 14, 2002, snapped a five-game losing streak versus Pac-12 Conference opponents dating back to Eastern's 83-82 overtime win versus Washington State on Dec. 22, 1997, in Kennewick, Wash. That victory over WSU was Eastern's first-ever win over a Pacific 8 or Pacific 10 Conference opponent since the inception of the conference in 1968. It was also Eastern's first win over Washington State since Dec. 1, 1952, when the Eagles pulled out a 72-71 overtime road win, which is EWU's last win in Pullman in the series. The Cougars had led the all-time series 50-10 and had won 17-straight games over the Eagles prior to that EWU victory in 1997.
* Eastern is now 15-10 all-time against Seattle in a series that has included at least one game annually since 2009. In the 2015-16 and 2016-17 seasons, the Eagles and Redhawks played each other twice both seasons. In 2016-17, a pair of tightly-contested games both went to double overtime, with Eastern winning in Seattle 93-88 after being victorious in Cheney 80-76. In the 2015-16 season, Eastern won at home 76-70 and then five days later fell in Seattle by a 58-56 score. Eastern won in the 2014-15 season in Seattle 87-75, and the year before triumphed in Cheney 82-75.
* Before renewing their rivalry in 2009, the last meeting came on Nov. 22, 1985, when Eastern won 83-64 at Reese Court in Cheney, Wash. Until 2009, that was the lone game played between the two schools since EWU moved to NCAA Division I in the 1983-84 season. The first four meetings came in the 1945-46 season, and Eastern won all four of those games, as well as a pair the following season. A split followed in 1948-49, and Seattle swept a pair in the 1951-52 season. Seattle was in NCAA Division I from 1944-1980, with such star players as Elgin Baylor, John O'Brien, Clint Richardson and Frank Oleynick on its rosters. Baylor, in fact, led Seattle to the championship game of the NCAA Tournament where it lost 84-72 to Kentucky. Formerly known as the Chieftains, from 1980-2002 they were affiliated with NAIA and from 2002-2007 were a member of NCAA Division II.
* In last year's meeting, Seattle made 51 percent of its shots while EWU struggled to a 39-percent afternoon in an 84-65 loss to the Redhawks on Dec. 3 at KeyArena in Seattle. The Redhawks used a 20-6 run to lead by 13 at halftime, then scored 23 of the first 29 points to start the second half to build a 32-point lead. At one point in the second half, the Redhawks were shooting at a 26-of-43 clip (60 percent), and at the same time the Eagles were just 13-of-41 (32 percent). Eastern ended the game with a 26-13 run to cut the lead to the final margin of 19, but the damage was done much earlier as the Redhawks led the entire game and by no less than 19 in the final 14 minutes. Sophomore Ty Gibson scored all 10 of his points in the second half, making 3-of-6 from the field and 2-of-5 from the 3-point stripe. Senior Bogdan Bliznyuk was held to four points on 2-of-6 shooting from the field. He went into the game averaging 15.6 points on the season. Gibson scored all eight Eagle points during an 8-0 run in the second half, including both of his 3-pointers in the game. The Eagles held Seattle scoreless for nearly three minutes, including no field goals for a 5:36 stretch.
* On Nov. 22, 2017, Eastern made its last four 3-pointers in the second overtime and beat Seattle 80-76 at Reese Court to win the title in the Legends Classic sub-regional round in Cheney, Wash. The Eagles had made just eight of 30 3-point shots until Bogdan Bliznyuk, Sir Washington, Felix Von Hofe and Cody Benzel all hit treys to turn a 70-65 deficit into a 77-73 lead with 25 seconds to play. Before that, Benzel and Bliznyuk hit triples – both with four seconds on the clock — to force the game into overtime and double-overtime. Tournament MVP Jacob Wiley led the way with 20 points, nine rebounds, five blocked shots, five assists and a pair of steals in the victory. Benzel and Von Hofe each has 17, and freshman Luka Vulikic added a double-double with 12 points and 11 rebounds. Benzel made the second start of his career and finished with 17 points on 5-of-11 shooting from the 3-point arc. Von Hofe finished with 17 points with a trio of 3-pointers and 6-of-8 shooting from the free throw line. The game featured 14 lead changes and 11 ties, all in the second half and overtime. The Eagles finished with 10 blocked shots.
* In the rematch on Dec. 4, 2017, EWU rallied from a 14-point deficit with 10 minutes left to force overtime, then prevailed 93-88 in another double-overtime non-conference victory over Seattle at KeyArena in Seattle, Wash. Six 3-pointers in the final eight minutes of regulation helped send the game into overtime, including a trey with 24 seconds remaining by Felix Von Hofe, who finished with 19 points. After the Redhawks hit a 3-pointer to send the game into a second extra period, Eastern used a 9-0 run and 11-of-12 free throws in the final 1:54. Bogdan Bliznyuk had a double-double with 31 points and 12 rebounds, Cody Benzel was also in double figures with 12 and senior Jacob Wiley had a great all-around game with 10 points, eight rebounds, five blocked shots, five assists and a pair of steals. The Redhawks led 50-36 with 10:05 to play when Eastern hit six 3-pointers in the final eight minutes of regulation. With 24 seconds to play, Von Hofe made a 3-pointer to send the game into overtime, and Eastern survived a 1-of-19 shooting stretch to finish at 42 percent for the game with 11 3-pointers.
More Player Notes
Sharpshooting Duo Climbs EWU Three-Point Charts
Seniors Cody Benzel and Ty Gibson have both played in more than 100 games for the Eagles, with current totals of 105 and 100 games of experience, respectively. Benzel has started 30 games in his career, averaging 13.8 minutes and 5.0 points (6.6 as a junior) per game. Gibson has started 41 career games and has a 4.7 scoring average (6.3 as a junior) in an average of 17.7 minutes per game.
Both players are three-point threats with Benzel ranking eighth in school history with 153 3-pointers, shooting at a 40.7 percent clip to rank 13th all-time at EWU. Gibson has made 124 3-pointers and is 14th in school history with 39.9 percent accuracy. Sophomore Jack Perry is currently eighth on the percentage list at 42.3 percent.
Add in BYU transfer Steven Beo, and the Eagles will have four proven top-notch shooters in the league. Beo played in 31 games as a freshman for BYU in 2016-17 after averaging 27.7 points as a junior and 26.7 as a senior at Richland (Wash.) High School. He has yet to make his Eagle debut.
Benzel and Gibson, as well as forward Jesse Hunt, were named to the NABC Honors Court for the 2017-18 school year. Gibson is majoring in professional accounting, and has a 3.99 GPA at EWU after graduating from Issaquah (Wash.) HS in 2015. Benzel is a 2014 graduate of Ferris High School in Spokane, Wash., and has a 3.19 GPA as a marketing major. Hunt has a 3.61 GPA as a management major, and is formerly from Australia and graduated from Sir Francis Drake HS in California in 2015. Gibson and Hunt have also all earned Big Sky All-Academic
Vulikic Back After Injury-Shortened 2017-18 Season
Sophomore Luka Vulikic started Eastern's first eight games at point guard in the 2017-18 season before a foot ailment resulted in him redshirting. He's back as a starter in the 2018-19 season and after four games has led the Eagles with an average of 4.8 assists per game while chipping in averages of 4.5 points and 5.8 rebounds.
In those eight games in 2017-18, he averaged 7.1 points, 3.6 rebounds and 2.6 assists in an average of 25.6 minutes per game. That came after a freshman season in which he started 22 of 32 games and averaged 2.9 points, 2.8 rebounds and 0.7 assists.
A bout of planter fasciitis plagued the Serbian, and it was announced in February of 2018 that Vulikic would redshirt as an injury hardship. He scored in double figures three times in the eight games he played, scoring 10 points each versus Walla Walla (11/10/17) in the team's opener, at Washington (11/12/17) and then Utah (11/24/17). He had a career-high seven assists versus the Utes in a game he also had five rebounds.
Pair of Sophomores Contribute Significantly as Freshmen Last Season
Sophomore Jack Perry started EWU's last 27 games as a true freshman in 2017-18, and scored in double figures in four of his last nine games. So far in 2018-19 he has started all four games and averaged 6.5 points, 2.8 rebounds and 0.8 assists per game. His 42.3 percent accuracy from 3-point range in his career currently ranks eighth on EWU's career leaders list.
He had a career-high 18-point performance against Northern Arizona on March 3, 2018, in which he made a career-high six 3-pointers in nine attempts, then followed that with 14 points in EWU's quarterfinal win in the Big Sky Tournament. He also had a 15-point performance against Idaho State on Feb. 24, 2018, with five 3-pointers, and a career-high eight rebounds at Weber State one game earlier on Feb. 22. On the season he averaged 6.8 points and 2.4 assists per game while making 45.1 percent from the field and 56-of-130 3-pointers (43.1 percent to rank sixth in the Big Sky). His clutch 3-pointer with 15 seconds left helped clinch EWU's 81-74 win over Portland State on Jan. 4, 2018, then he hit another clutch trey with 1:06 left in EWU's 81-76 victory against Northern Arizona on Jan. 18, 2018.
Sophomore Jacob Davison missed EWU's first two games in 2018-19 because of an injury, but returned to play versus Green Bay and UMKC on Nov. 16 and Nov. 17, respectively. He had an 11-point performance in his season debut, then scored eight points and had two assists in the next game. He had five rebounds in both outings.
Davison played significantly as a redshirt freshman a year ago. He made the first start of his career at Seattle on Dec. 3 and started seven-straight games. He came off the bench in the last 21 and averaged 7.1 points on the season. His debut season ended with seven points, a career-high four steals and three rebounds in EWU's loss to Utah Valley in the College Basketball Invitational. He scored 41 points and had 14 rebounds in three Big Sky Tournament games, including 16 in both the semifinals and championship game. He scored in double figures seven times in his last 13 games, including 14 points in EWU's regular season finale versus Northern Arizona and 17 at Weber State on Feb. 22. He scored 15 at Utah on Nov. 24, 2017, when he had his third double-figure scoring performance in a four-game span. He came off the bench to score 20 against Georgia State on Nov 20, 2017, and had 11 one game earlier versus UNLV.
Peatling Finishes With Five Double-Doubles in Sophomore Season
A player who has yet to see action in 2018-19 is Mason Peatling, who earned honorable mention All-Big Sky honors as a sophomore. He put together a stretch of three-straight double-doubles in January of 2018 after re-joining the starting lineup mid-way through the season. He had the fourth double-double of the season and of his career with 19 points and 13 rebounds in an 84-79 win over Montana State on Feb. 17, 2018, then had his fifth with 11 points and 10 boards in Eastern's regular season finale versus Northern Arizona. His point total against the Bobcats was his career high, and Eastern was 4-1 when he had a double-double.
He closed his sophomore campaign with five points, five rebounds, two assists, a blocked shot and a steal against Utah Valley in College Basketball Invitational. In three games in the Big Sky Conference Tournament, he scored 30 points and had 17 rebounds and four blocked shots. In a win over Northern Colorado on Jan. 27, 2018, he had 17 points and a career-high 15 rebounds, making 6-of-11 shots from the field and finishing with two blocked shots. Peatling had the first double-double of his career with 10 points and 10 rebounds in EWU's overtime loss at Southern Utah on Jan. 20, 2018, then had 11-11 versus North Dakota on Jan. 25, 2018.
For the season, Peatling averaged 7.7 points in 31 games (26 as a starter), and averaged 5.6 rebounds (17th in the Big Sky) and 1.2 blocked shots per game (fifth). His averages were 8.7 points, 7.4 rebounds (seventh) and 1.5 blocks (fourth) in conference play. In his 65-game career (43 as a starter), he's averaged 5.8 points and 4.3 rebounds with a total of 43 assists, 50 blocks and 40 steals. He hit double figures in scoring 11 times in 2017-18 and 15 in his career thus far, and has had at least 10 rebounds six times in his career, all during his sophomore season.
Making his first start since Dec. 12 after missing four games because of a hand injury, Peatling embraced his return to the starting lineup on Jan. 6, 2018, against Sacramento State. It took barely over seven minutes for him to hit the double-figure mark, as he finished with 12 points on 6-of-9 shooting from the field in 13 minutes of action. Prior to being sidelined with his injury, he scored a career-high 19 at South Dakota on Dec. 10, 2017, and had 11 points and six rebounds one game earlier at San Francisco.