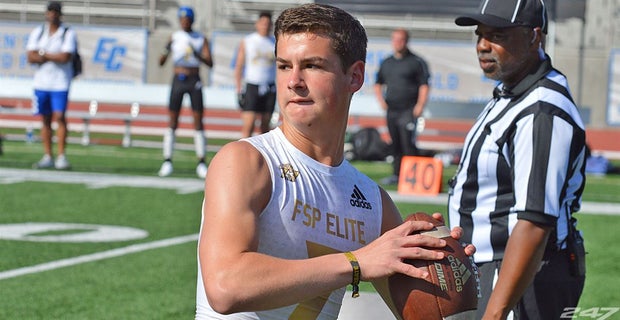 For most UW fans who follow recruiting, it wasn't a matter of if Sam Huard was going to be offered a scholarship by the University of Washington. It was just a matter of when.
Huard's UW roots run deep. His father Damon was a star quarterback at Washington, and his uncle Brock was the same. That's why it wasn't a surprise Sunday when the Huskies offered Huard a scholarship offer.
But it still came as a shock to him. It happened when he was at UW Sunday. His parents were downstairs while he was talking with Chris Petersen. It was at that moment the Washington Head Coach gave the 2021 prospect the good news.
"When you hear news like that, that you've wanted to hear for a while and it finally happens, it's pretty cool," Huard told Dawgman.com Sunday when the news broke.
"Obviously it's been something I've been dreaming about since I was little. After these past couple of seasons I've been thinking about maybe it could happen. But after Coach Pete said it I was just in shock. I was so happy. I have such a long way to go but it was really awesome and I was really excited when he told me that."
Huard, who has thrown for over 7500 yards and 76 touchdowns his first two years for Kennedy Catholic, knows he's still got a ways to go in the recruiting process, but the UW coaches definitely let him know how important it is for them to keep the top in-state prospects home.
"I don't want to worry too much about the college thing yet, but they told me the big thing is that they want to keep all the top guys here and it's going to be great for the program," he said. "They want me to be a Husky."
With all the connections to Washington (his father also does the color commentary for UW's games on radio), does that mean he's now looking to shut the recruiting process down?
"I honestly don't know yet," Huard said. "I'm not too worried about the college thing yet but I'll talk with my coach and my parents about it and we'll see what happens."