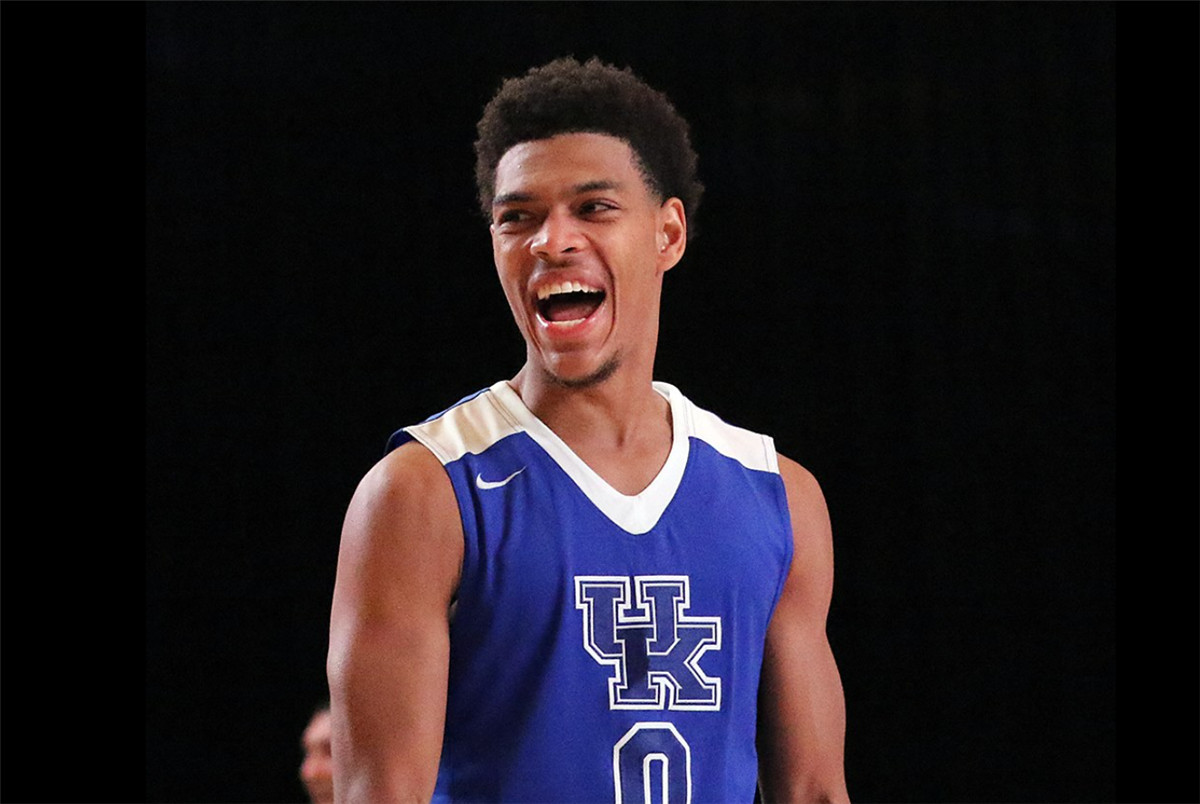 SEATTLE – The Huskies will welcome Kentucky transfer Quade Green to the program starting immediately, head coach Mike Hopkins announced on Friday. The five-star prospect will have to sit out until the start of the winter quarter of the 2019-20 season but will be able to practice with the Dawgs during that time.
"We could not be more excited to welcome to the Husky Family such a humble leader that fits our culture perfectly," said Hopkins. "Quade has proven he can win his entire life and the skill set, attitude and work ethic he brings is going to continue to help us take this program in the direction we want to go. He's got a great amount of experience and talent, I've known him for a long time and we're just very excited he is here to help us continue to build."
Green, originally from Philadelphia, was originally a 5-star recruit coming out of the class of 2017. In his first season with the Wildcats, Green averaged 9.3 points and 2.7 assists in 34 games while shooting 45.1 percent from the field. This most recent season before making the decision to transfer, Green was putting up 8.0 points and 2.3 assists in eight games.
Prior to moving to Kentucky, Green was a McDonald's All-American, participated in the Jordan Brand Classic and was the MVP of the HoopHall Classic. He averaged 20.8 points and 8.0 assists in leading Neumann-Goretti High school in his senior season as well. He was named the 2016 and 2017 Pennsylvania Class 3A Player of the Year and was part of the 2016 FIBA Americas U18 Championship Team that won the gold medal in Chile.
Green will join a guard rotation next year that will have guards Jaylen Nowell, Jamal Bey, Elijah Hardy, RaeQuan Battle and Marcus Tsohonis. There's a possibility Nowell may test the NBA waters after this season.
"Quade Green is a great kid who got caught in a numbers crunch in Kentucky's backcourt," CatsPause.com's Chris Fisher told Dawgman.com in December when Green decided to join UW. "Ashton Hagans and Immanuel Quickley had taken some of his minutes and with Tyrese Maxey on the way next season, minutes weren't going to get any easier to come by.
"Green was perhaps the Wildcats' most consistent outside shooter during the last two seasons, making 38.5 percent of his shots from beyond the arc. He had the reputation as a point guard coming out of high school but had trouble initiating offense, turning the corner and getting to the rim. Plus his shooting ability makes him a huge asset off the ball.
"Green's size, or lack thereof, was a detriment at times on both ends of the floor. He struggled to defend and had a hard time passing over and around bigger defenders, committing a team-high 21 turnovers while playing the eighth-most minutes this season.
"But in the right system, I still think Green can be a tremendous college basketball player."