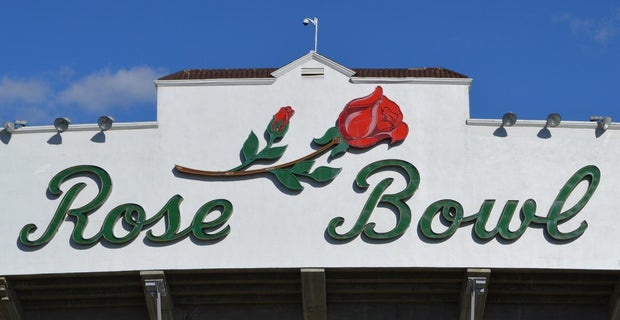 The game is set, and it's a blast from the past. In a rare show of tradition, the Pac-12 Champion Washington Huskies (10-3, 8-2) will face the Big Ten Champion Ohio State Buckeyes (12-1, 8-1) in the 2019 Rose Bowl in Pasadena, Calif. Despite the traditional nature of the game, the two teams have never met in a bowl game before. Ohio State owns the series 8-3, beating UW 33-14 in 2007 in the last meeting between the two. 
The Huskies defeated Utah 10-3 Friday in the Pac-12 Championship game to earn their berth, while Ohio State beat Northwestern 45-24 Saturday night in the Big Ten Championship game. 
The Buckeyes were still looking to get the final College Football Playoff spot, but that invitation went out to Oklahoma. Ohio State finished sixth in the final Playoff poll, while the Huskies finished ninth. 
"It's a special feeling," Washington senior quarterback Jake Browning said after beating Utah to get to Pasadena. "I don't think it's totally set in yet, just because we beat a really good Utah team, and still excited about that. But, yeah, I think once it sets in, I grew up in California, and watched a lot of Rose Bowls and to be able to play in one now, it's a special game, and this is a special team, and definitely excited."
On paper it looks like a battle between Ohio State's high-powered offense, led by Heisman Trophy candidate Dwayne Haskins, and Washington's Death Row defense. The Buckeyes are currently No. 2 in total offense (544 yards per game) and the Huskies own the No. 12 total defense (302 yards per game allowed). Ohio State is scoring over 43 points per game, while Washington is allowing only 15.5 points per game. Which side will prevail? 
It's been 18 years since the Huskies have run to the Roses. In 2001, the Marques Tuiasosopo-led Washington defeated Purdue 34-24. The Boilermakers quarterback that year? Drew Brees. Washington was ranked 4th at the time and Purdue 14th. 
Overall, Washington has now been in 15 Rose Bowls dating all the way back to 1924, when they tied Navy 14-14. 
Washington-Ohio State Series Record
1957 (H) 35-7 loss
1958 (A) 12-7 loss
1965 (H) 23-21 loss
1966 (A) 38-22 win 
1969 (H) 41-14 loss (Ohio State ranked 1) 
1986 (H) 40-7 win (UW ranked 10, tOSU 17)
1993 (A) 21-12 loss (UW ranked 12, tOSU 16)
1994 (H) 25-16 win (tOSU ranked 16)
1995 (A) 30-20 loss (UW ranked 18, tOSU 10)
2003 (A) 28-9 loss (UW ranked 17, tOSU 2)
2007 (H) 33-14 loss (tOSU ranked 10)