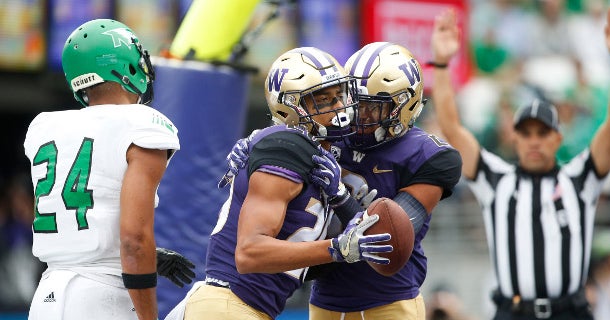 It wasn't pretty and it took longer than many expected, but Washington got to 1-1 on the season with a 45-3 win over North Dakota on Saturday in front of a an announced crowd of 68,093.
The effort by the Huskies was frustratingly inconsistent for those in attendance, drawing some boos from the faithful that did make their way to Husky Stadium on Saturday.
Washington scored on their second drive of the day after their defense held strong and forced a turnover, redshirt freshman linebacker Ariel Ngata got a sack and forced a fumble by quarterback Nate Ketteringham, which was recovered by Taylor Rapp at the North Dakota 23.
Six plays later, Washington was in the endzone and up 7-0 after Jake Browning rolled to his right and found wideout Ty Jones in the back of the endzone from four yards out.
Washington added a 29-yard Peyton Henry field goal on their next possession and appeared to be ready to take over the game, however, the offense sputtered for the rest of the half, managing just one more touchdown drive before the gun sounded.
The second half was marred by penalties, mistakes and turnovers, including an interception by Browning, his second of the game.
Defensively, Washington handled the Fighting Hawks' offense for most of the day, but when tailback John Santiago broke free for a 69-yard run midway through the third quarter, the Husky faithful began to get a little bit nervous.
Santiago was caught from behind by cornerback Byron Murphy at the Washington 17 and the proved to be important, because the Husky defense was able to tighten up and force their guests to settle for a 20-yard field goal by Brady Leach.
Washington then seemed to get some life and scored touchdowns on four of their final six possessions and put the game away.
On the day, Washington's defense held North Dakota to 262 yards including 161 on the ground while the Husky offense totaled 632 yards (437 passing, 195 rushing) on 79 plays.
Washington, now 1-1 on the season, will travel to meet Utah in Salt Lake City next week.