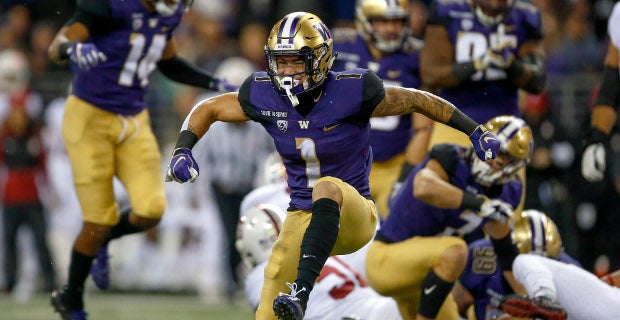 The Washington Huskies got out to a fast start on Stanford, sprinting out to a 21-0 lead in the first half, but in the second half, they had to withstand a torrid Cardinal comeback to get a nail-biting 27-23 win at Husky Stadium on a blustery and rainy Saturday night.
The Husky offense, much-maligned over the past couple of weeks, scored touchdowns on their first three drives of the night a seemed to thrive off the return of starting running back Myles Gaskin who powered his way to 148 yards and a touchdown on 28 carries.
Washington senior quarterback Jake Browning got the scoring started by going over from two yards out to put the Huskies up 7-0 and then he hit tight end Drew Sample for an 11-yard touchdown on their second drive which spanned 14 plays and 80 yards while also eating up 5:30 on the game clock.
Gaskin capped the scoring in the first half with a six-yard touchdown run.
The Huskies got the ball to start the second half, but were unable to do anything with it and that allowed Stanford to gain some momentum.
The Cardinal marched 61 yards in eight plays and wrapped up their first scoring drive of the night with a KJ Costello to Kaden Smith 11-yard touchdown pass.
Smith led all receivers with eight receptions for 107 yards and the one touchdown.
Washington added a 22-yard field goal from Peyton Henry to give them a seemingly commanding 24-7 lead with 4:27 left in the third quarter, but Stanford was not daunted and scored 10 more points — a Bryce Love five-yard touchdown plunge and a 21-yard field goal from Collin Riccitelli — to draw within seven points.
The Huskies, needing a long drive and some points to show for their efforts, got a couple of clutch plays from Browning and wide receivers Ty Jones and Aaron Fuller to set up Henry's second field goal of the night, a 38 yarder that sailed through the uprights and elicited a huge roar from the Husky faithful.
Stanford came right back though with Costello hitting Trent Irwin for a 33-yard score, but Riccitelli, facing a swirling wind, missed the extra point.
The Huskies were able to get one first down, but eventually had to punt the ball and gave the ball back to Stanford at the Cardinal 15 with 2:05 left on the clock.
Costello hit a couple of key passes, but some questionable clock management forced them into one last play from the Washington 34 with :03 left on the clock.
The quarterbacks pass was intercepted by Husky safety Taylor Rapp and Washington was able to exit the field with a hard-fought, nail-biting 27-23 win to get to 7-3 on the season.
Washington will be off next week before returning to Husky Stadium to take on Oregon State on Saturday, November 17th.