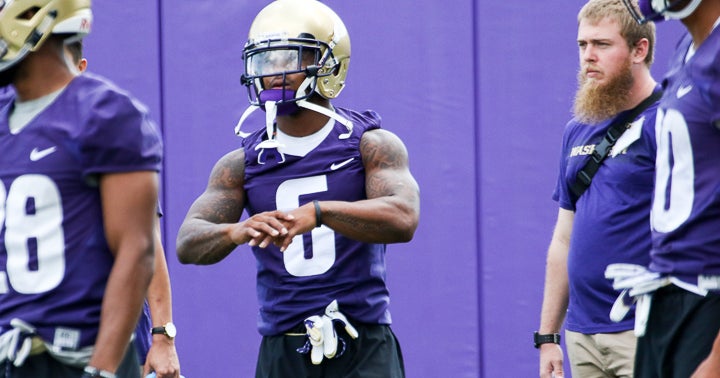 It's been 10 months since Chico McClatcher has put on the pads in a game that counts, but that doesn't mean the former Federal Way star hasn't been putting in work. Whether it's in the training room, practice field, or even playing games like Fortnite or listening to music, the junior receiver has tried his best to keep the receivers room tight-knit and together. He spoke with Dawgman.com Saturday about coming back from his broken ankle, the difficulties in sitting out that long, and what he's done to get back.
Initial reaction to the injury at Colorado…
"It happens. It's part of football. Bad footing…it happens a lot. Injuries can happen at any given second. My mindset was really just dealing with this injury and getting back into rehab every day. That was my mindset, and just keep on supporting my teammates while they were playing."
Ever had an injury that severe before?
"No. I haven't. Broke my ankle against Colorado was probably my first huge injury. It definitely was new to me, a lot of people telling me it's all about your mindset. Mentally is the most important thing you can handle right now going through a tough time. I just took that advice and just rolled with it and just got better every day in the training room to get back."
But it must have been killing you…
"It was. Seeing all the cool uniform combos they had against Cal and all that…"
Of all the things you were worried about, it was the uniforms? (laughs)
(laughs) "I was kind of jealous of that. But shoot, I'm just glad to be back with my teammates."
You knew you were going to be able to wear them again…
"I know. But it would have looked better if I had played in them. Right now I'm just happy to be back with my team and my coaches."
What is your favorite combination?
"I don't know…I like all black, honestly. Or all purple with the gold helmets or purple helmets. Chrome. Whatever we wear, I'm happy."
How does the receiver room feel compared to last year?
"Really it's kind of the same. Dante (Pettis), he's a great person and a very genuine dude and everybody learns from him, but in our receiver group we have a whole bunch of leaders being more vocal in the room and still spreading jokes to coach Lubick. It's just a fun environment."
Is it tough to go right back to being a leader after being out that long?
"Not really. We build our relationships off the field, so that's why we're such a tight group. We hang out almost every day, doing random stuff, playing Fortnite and all that. That off-the-field stuff translates to on the field. It helps out a lot and everybody has their mind to speak up if something's going wrong. Everybody can have their input on that kind of situation. Everybody's a leader in our room, that's how I see it. Me coming back, I always to kind of be more vocal and make sure everybody's ready to play."