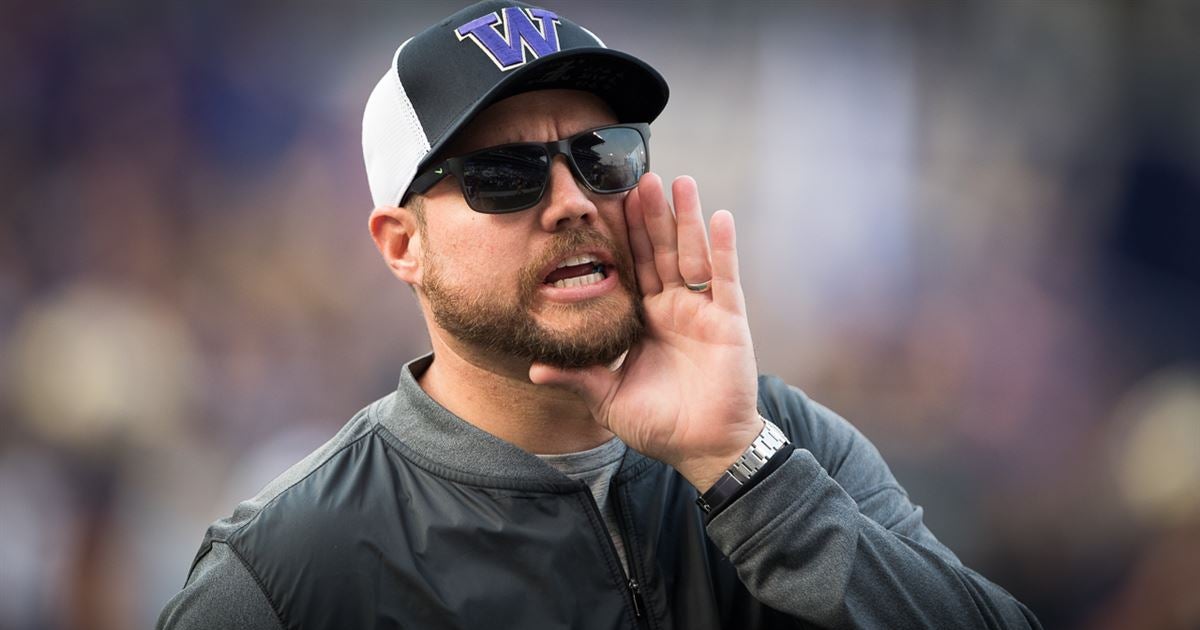 It's the answer to life, right? Everybody is looking for that one secret, that one key that synthesizes everything down to its essence, its core.
On Saturday, Washington Huskies Offensive Line Coach Scott Huff boiled down offensive line play to one essential ingredient that every lineman must possess, and he talked about it and a number of other topics in this DawgmanRadio.
On the continuity with the ones during the spring, but a lot of mixing and matching in the fall…
"We want to develop our depth. We do want to develop some continuity amongst the guys, there's no question about that. But as we saw last year when Trey (Adams) goes down, you can't get caught like that. That's what we're building. We're trying to develop the guys, but we're trying to make sure the right combination. If something happens, this is what our reaction is going to be. So it's between development and knowing who the next-best guy is at different positions."
Was there something to playing all five together (Roberts, Wattenberg, Harris, James, McGary) with the ones basically all of spring?
"From your standpoint you probably saw it that way but we still had different lineups and different guys. With meetings and walkthroughs there's a lot of things that go on other than just on the field. Those were our guys I guess at the time that, hey – let's roll these guys out with the ones, even though they might not be ones this is a good group to roll. Matt James played right guard, right tackle. Jaxson Kirkland played right guard, right tackle. Luke (Wattenberg) kind of moved in at left guard, Nick (Harris) made a full-time move to center. Henry Roberts had a great spring at left tackle. So we've got all those places, and now Henry Roberts, for example – he can play left guard, left tackle, right guard, right tackle. He gives us a lot of flexibility. Not all those guys are at that point. Jaxson (Kirland), we felt like for this guy to take the next step, let's try to lock him in and only have him play one position. So it's hard to put one clear answer on it."
Is there a guy that has taken that left tackle position in case Trey Adams can't go?
"Yeah, I think I've got a pretty good idea of who is first man up, but I think there's some other guys…"
You're not going to give up the name, are you?
"I'm non-committal right now. It's been a really fun competition to watch and be a part of, to watch the different guys develop across the board. We've had some really good competition."
With so many guys in competition there (Adams, Roberts, Wattenberg, Hilbers, Bainivalu), what do you look for in a left tackle?
"At the end of the day it's the guy that can move his feet. I mean, that's all the positions, let's be realistic. But who doesn't want Trey Adams to be your left tackle? He's dang near 6-8, 320 pounds and he's light on his feet. He's the prototypical guy. And over on the right side you have Kaleb McGary, who is kind of the same thing. Coleman Shelton played left tackle before I came here but he was really good – smart and crafty and could move his feet. At the end of the day, let's not make o-line play any more complicated than it is. It's getting your body between the ball and your man. So we've got to find guys that can do that. And it starts with moving your feet. You've seen all different body types…who doesn't want the tall prototypical NFL left tackle? But at the end of the day, Nick Harris could go out there and play left tackle for us because he's got great feet."