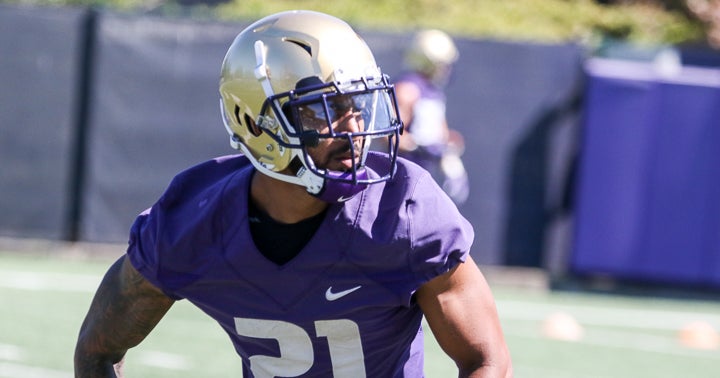 The injury bug really hit the Washington Huskies' pass catchers hard last year. Hunter Bryant got hurt against UCLA, Quinten Pounds got hurt the following week during practice, Andre Baccellia missed seven games in the middle of the season with a nagging injury, and Chico McClatcher missed the last nine game after getting hurt at Colorado.
It was during that night in Boulder where Pounds, a junior from Cypress, Calif., made his finest catch to date as a Husky – a 43-yard touchdown catch in double-coverage – to help UW beat Colorado 37-10.
Pounds is now back, and he's had a healthy fall so far – knock on wood.
"It's been good to be back out there with my teammates," he told Dawgman.com this week as the team continues to prepare for No. 9 Auburn on September 1st in Atlanta. "Every day I was out thinking about being back with my teammates and now every day I just go out there and give it all I can and enjoy the day. Every single day I just to be best I can."
"He's had some bad luck with injuries, had a couple guys that way," Receivers Coach Matt Lubick added. "But he's overcome them. I think it's made him appreciate football more. And I'm really excited where he's at now."
With Bryant still out for at least the beginning of the season and Dante Pettis having graduated, that means 38 percent of last year's yards and 42 percent of the touchdowns are not available to this year's receiving corps.
It's hard to underestimate how much damage was done to the receivers last year to injury. Of the nine available receivers on scholarship (Alex Cook and Terrell Bynum were redshirting), Pettis is the only one that caught a pass in every game. Aaron Fuller caught a pass in nine games, but after that the next most was Pounds, with seven. In total, only seven receivers caught passes from Jake Browning in 2017. Expect that number to change this fall.
"That group last year is just a different group," Pounds said when asked how this receivers room compares. "No one know who this group is yet this year. We have to prove that, and we like that because we don't want anything handed to us. We just want to prove everything that we can. We have to go out there every single day and get better."
That means the identity is a work in progress, but Pounds is adamant the potential is there in the group to be great. "I would say we're just an overall, all-around group," he said. "We have a lot of depth I would say. We put a lot of work in this off-season. A lot of people have gotten better, starting with the so-called 'starters'. We have at least nine-deep, I would say. We have a lot of good players."
Lubick feels Pounds has the ability to be one of those veteran leaders that keys the rest of the room on to bigger and better things. "He's one guy that's had a lot of playing experience and has made plays in games and he's 100 percent," said Lubick. "He's been making plays in fall camp. He brings confidence to the group. He's really good in traffic, he can compete for the ball, and he's dynamic with the ball in his hands. So I'm excited to have him healthy."
Pounds has been more than just noticeable in camp, and the Huskies hope he's back to his 2016 best when he played in all 14 games – a far cry from the year before when he was hurt after the third game of the season and didn't play again.
"He's kind of coming out there like he really hasn't missed a beat," said head coach Chris Petersen recently. "But he's still coming back, so again, it's a progression for him, as well. We're really proud of the way that he's come back and the plays that he's made out here. We need him. You can see when he's on, he changes our offense."
"I can't think of a guy, whether the football thing happens or not, that I'm probably more proud of," added Offensive Coordinator Bush Hamdan. "To see where he was at two years ago and his development, his maturity…I really, in the biggest way, just want him to come out and have a great year because he deserves it. I couldn't be more proud of a guy for how he's worked and how he's kind of persevered through some hard times."