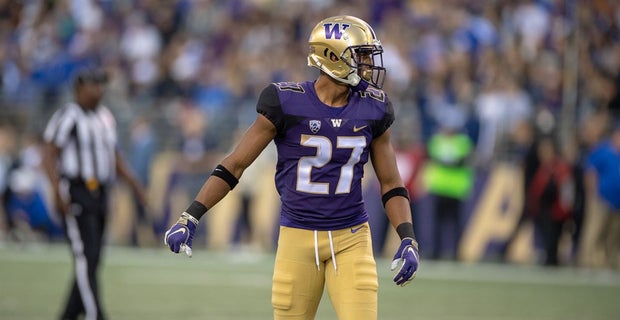 The Washington Huskies won a nail biter at home, barely outlasting the Stanford Cardinal by a score of 27-23. The Huskies were up 21-0 at halftime, and nearly saw their lead slip from their hands. In fact, the Cardinal had a shot at the end zone on the last play of the game. Fortunately for the home Husky crowd, junior safety Taylor Rapp made a game-saving interception as time expired.
"It was kind of nervous, because either we are catching the ball or they're catching the ball," sophomore cornerback Byron Murphy said following the game. "In my mind, just make sure I stay and do my assignment and make a play on the ball."
The Husky secondary was pivotal in helping Washington win the turnover battle against a sound Stanford squad. KJ Costello had thrown just six interceptions for the Cardinal heading into the game; however, he threw three tonight during a windy, rainy game in Husky Stadium. Washington's secondary rose to the occasion against one of the conference's best passing offenses without Jordan Miller and Myles Bryant. Additionally, Jojo McIntosh missed the majority of the game after a targeting call got him ejected. Sophomore defensive backs Keith Taylor, Elijah Molden, and Brandon McKinney stepped up in their absence.
"I knew whoever was going to come in was going to make a play," Murphy said of the young defensive backs that stepped up in Washington's win. "We always carry the flag. When someone goes out, someone has to replace them and come in and do their job."
"No surprise," Washington Defensive Coordinator Jimmy Lake said when asked about his younger defensive backs stepping up in the pressure moments. "Brandon McKinney, Elijah Molden, Keith Taylor. They could all start in any secondary in the country. Right now they got pushed to be starters. There is no drop off. I have high confidence in all three of those guys."
The young defensive backs did not disappoint in their "next man up" efforts. Taylor and Molden both finished with a pass breakup. Additionally, Molden and McKinney tallied seven and five tackles, respectively. Taylor explained that defensive coordinator and defensive backs coach Jimmy Lake coaches his players up for moments like these.
"Coach Lake, he always preaches talking about carrying the flag," he said after the win. "Whoever goes down, next man up. Just play regular, really. I don't really go out there nervous or anything. I just trust in my technique."
The lengthy sophomore was tasked with defending the likes of JJ Arcega-Whiteside, Trenton Irwin, and Stanford's tall tight ends. Using his size, Taylor was able to fight power with power.
"It's really just strength on strength to me," the sophomore standout added. "I always have to prepare for any receiver that lines up against me. Back to technique. Whatever coach Lake is teaching us, we just play to our technique really."
Even the three true freshmen were asked to handle some tasks Saturday night. Dominique Hampton and Julius Irvin both racked up a tackle each on special teams, and Kyler Gordon saw his first action as a Husky defensive back too, coming up with two stops.
"We worked all week and he did an excellent job all week," Lake said of Gordon's play. "I think three or four interceptions in practice. Executed it perfectly. I still have to watch the tape but it didn't look like he made any mistakes. We're excited about all three of those freshman. They all had tackles on kickoff. Speed, they're aggressive, they are exactly what they want. It's going to be fun to watch those guys continue to blossom."
After a hard fought win, the Huskies will benefit from a bye week before returning to action on November 17th. They will take on the Oregon State Beavers, led by former Washington Offensive Coordinator Jonathan Smith.