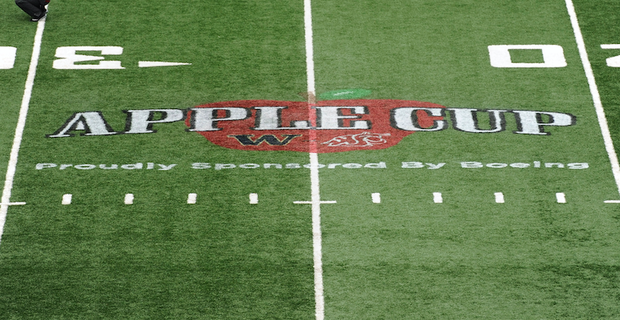 WASHINGTON STATE'S rise to the College Football Playoff discussion behind a mustachioed graduate transfer has conjured dreams of Pasadena and more for the Cougar faithful, but throughout this magical 2018 season one question has loomed like a Damocles: Will the Cougars show up for the Apple Cup?
A five-game losing streak to the archrival (the last three being of the blowout variety) can haunt a fan base. And so it is at Washington State despite the Cougs' 10-1 record and No. 7 national ranking coming into Friday's 111th meeting of the Cougars and Huskies.
The No. 16-ranked Huskies (8-3, 6-2) have outscored WSU 189-71 over the last five years and turned the last two Pac-12 North Division title matchups with the Cougs into laughers. Not even WSU's two sixth-year seniors, Peyton Pelluer and Robert Lewis, know what it's like to beat the Dawgs.
Friday evening's showdown in Pullman, though, offers all kinds of intrigue and interesting matchups.
ABOUT THE HUSKIES: This Apple Cup feels a tad bit different than past exhibitions. It is both a testament to the maturity and depth at WSU and a byproduct of micro-level issues on Montlake that have given oddsmakers enough confidence to install the Cougars as favorites for the first time since 2006.
Perhaps the most compelling storyline in Seattle this fall has been the decline of UW senior quarterback Jake Browning since former offensive coordinator Jonathan Smith left for Oregon State. This season he's thrown 16 touchdowns against 8 interceptions and looks nowhere near as comfortable throwing outside the pocket on designed motion or broken-down plays. Browning's relationship with head coach Chris Petersen was placed under the microscope when Petersen yanked Browning for two series in a 12-7 loss at California.
Browning has since shown glimpses of his old form in 27-23 and 42-23 wins over Stanford and OSU, respectively. The offensive production is not as consistent across four quarters as that of the Huskies' output in 2016 and 2017, though.
UW's past two wins put the team back in contention for a Rose Bowl bid if they knock off the Cougs, but the Huskies scored just 13 combined second-half points in those contests. Some of the Huskies' offensive hiccups can be attributed to injury and attrition, though. All-conference running back and four-year starter Myles Gaskin was sidelined for most of October, preseason All-American left tackle Trey Adams has only just recently started suiting up and Browning is without the aid of the receiving talent of yore like John Ross and Dante Pettis.
THE GAME PLAN: The Huskies' offensive motto against the Cougars is fairly simple. With a mammoth offensive line, UW blends halfback dives with short, high-percentage pass patterns between the seams to kill clock, keep the Air Raid on the sideline and wear down WSU's front-seven.
A trio of factors could reverse the narrative in Friday's game, however. For one, Gardner Minshew has not been exposed to past Apple Cup beatings, and has a knack for performing best under the brightest lights (see Oregon, Stanford and Arizona games).
Related: Minshew 'kinda hates everybody we play'
In the last three lopsided Apple Cups, Peyton Bender and Luke Falk struggled to find any breathing room against UW's secondary. The Dawgs' defense will again be a bane for WSU on the strength of a deep linebacking core – headlined by All-America contender Ben Burr-Kinven — that can tackle and cover in space and an equally tough contingent of corners and safeties.
Minshew benefits from what many Cougar football observers, including former quarterback Alex Brink, believe is WSU's deepest receiving corps in the Leach Era. Nine players have recorded at least one touchdown reception. WSU's ability to go two-deep at each position and filter in a pair of running backs who can catch out of the backfield and in space gives Leach and outside receivers coach Steve Spurrier Jr. room to stretch the Huskies' secondary up the seam and outside more so than the past three seasons.
The Cougars' defense measures up evenly with UW's as well. The Huskies are giving up the conference's fewest points per game (16.6), but WSU is not far behind, surrounding an average of 22.6. WSU is also second in the conference in total defense and leads the league in sacks (34). Comparatively, UW has registered 17 sacks and sits one spot behind the Cougars in total defense.
Over the past five years, WSU has failed to match UW's physicality between the trenches and showcase comparable defensive personnel depth. The Huskies will again be the bigger team up front and benefit from more established playmakers in the secondary, but defensively, the numbers between the two teams are as close to a wash as you'll find.
PLAYERS TO WATCH: Running back Salvon Ahmed has proven to be more than just a serviceable backup to the oft-injured Gaskin. Ahmed is averaging six yards per carry, has as many touchdowns as Gaskin (seven) and will spell Gaskin for multiple downs. Ahmed and Gaskin both prefer to run vertically.
On defense, safety Talor Rapp may be UW's best overall athlete and the player who can disrupt Minshew's rhythm. Rapp can run deep with any of WSU's wide receivers and prefers to play closer to the line of scrimmage. He has five tackles for loss and caused three fumbles.
KICKOFF: Friday, 5:30 p.m. PT
TV: Fox
THE LINE: WSU by 3
ESPN matchup predictor: WSU has a 55 percent chance of winning
NOAA WEATHER: Cloudy, with a 48 percent chance of rain, a game-time temperature of 40 degrees and 10 mph winds
RECORDS: Cougs 10-1 (7-1 Pac-12); Huskies 8-3 (6-2)
THE SERIES: UW leads 72-32-6
LAST MEETING (2017): UW 41, WSU 14
THE RANKINGS: Cougs are No. 7/7 and UW is 16/16.
THE COACHES: Mike Leach is 47-39 in his seventh year at Washington State. Petersen is 44-20 in five years at UW.
FAMILIAR FACES: UW special teams coordinator and inside linebackers coach Bob Gregory played defensive back and linebacker at WSU from 1983-86; and UW defensive coordinator Jimmy Lake prepped at Spokane's North Central High and played and coached at Eastern Washington.
SCORING DIFFERENTIAL: UW's most productive quarter has been the first, where it has amassed 107 points to WSU's 86. Conversely. WSU is outscoring its opponents 130-32 in the fourth quarter, a frame in which the Huskies have only totaled 54 points.
MAXIMIZING GIVEAWAYS: UW is among the stingiest in the Pac-12 when it comes to turnovers. The Huskies have lost just three fumbles and have 11 total turnovers for the year. WSU caused three fumbles on Saturday against Arizona and picked off Khalil Tate once to set up short fields on scoring drives. In a game where points and time of possession – even though Leach deadpans the figure as a meaningless stat – will be at a premium, an early takeaway or two can neutralize the Huskies' quick-strike, first-half offense and give Minshew a chance to build a lead.
STICKING WITH THE 4-3-4: WSU defensive coordinator Tracy Claeys went with his trademark base defense against Arizona. The result? WSU held JJ Taylor, a semifinalist for the Doak Walker Award, to less than 100 yards rushing for the first time in a month. Claeys' constant shifts and stems forced Kalil Tate to throw from inside the pocket throughout the game. Expect to see Claeys keep his linebackers again close to the edges of the offensive line and alternate blitzes to counter UW's two-pronged rushing attack and keep Browning uncomfortable.
A HEALTHY REST: Aside from garnering the late-night national spotlight and furthering WSU's conference championship push, Saturday's 41-point halftime lead paid another dividend ahead of Friday. Sans a first-half injury sustained by starting left tackle Liam Ryan, Leach had the luxury of resting his starters and tapering drives in the second half as opposed to grinding out a four-quarter effort.
HEAR IT FROM THE OTHER SIDE: Matt Calkins of The Seattle Times:
"What's relevant is that the Cougs continue to do things people simply can't believe. What's relevant is they have a transfer behind center who not only holds the scepter to Pullman, but is captivating the country. What's relevant is that Washington State is the No. 8 team in the country according to the College Football Playoff Committee, and seems hellbent on moving up. Before the game, I was talking to a writer about the Apple Cup and told him that until the Cougs actually beat the Huskies, I have to pick Washington every time. I don't know anymore. This team feels different. This team feels special. No doubt Wazzu fans stayed up all night celebrating. Washington fans might have stayed up all night sweating."
From the CF.C archives: Secrets of the 5 modern era WSU QBs who won in Husky Stadium