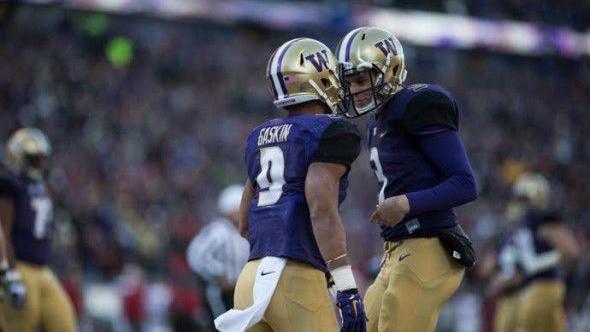 ATLANTA, Ga. – The University of Washington Huskies football team's playoff hopes could potentially be on the line Week 1. The Huskies will travel to Atlanta to play Auburn University in the first game of the season on a neutral site.
The Huskies come into this matchup ranked No. 6 in the nation while Auburn is ranked No. 9 in the nation. The top four teams make it to the playoffs and U-Dub is only one of the two Pac-12 teams to ever make it to the playoffs.
The narrative following the story that Washington needs to win, is that the Pac-12 isn't strong enough on its own to get a team into the national playoffs. With conferences loaded like the Big 10 and the SEC, playoff spots are hard to earn. Add to that the fact that there are four spots and five power conferences, and making it feels like a long shot for any team.
Despite being ranked No. 9 in the country, Auburn is the third-highest ranked team in its own conference. Conference rivals, Alabama and Georgia both made the playoffs last year and are ranked No. 1 and No. 3 in the nation, respectively.
The argument is that if Washington loses to Auburn they would need Auburn to run the table to make the loss look excusable. An argument could be made that LSU is even better than Auburn, which would see Auburn finish third in its own division. If Washington loses to a team that finishes third in its division will look bad for Washington, even if Auburn is in the SEC West.  
Luckily for the Huskies, they're bringing a loaded team to the table. Quarterback Jake Browning and running back Myles Gaskin have returned for their senior years. The only question on the offense is which receivers will step up. Through camp, the defense has looked like the strength of the team, even with so much senior leadership on offense.
ESPN's Power Football Index gives U-Dub the slight advantage, giving the Huskies a 50.5 percent chance of winning. Vegas, however, gives the edge to Auburn, listing them as three-point favorites.
The game will kick off tomorrow at 12:30 p.m. PT and will be broadcast nationally on ABC.